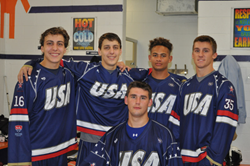 Baltimore, MD (PRWEB) August 30, 2016
Lionheart Lacrosse is proud to announce that five local high school athletes recently made the U-19 roster for the Team USA Junior Indoor Lacrosse Team. The Lionheart Lacrosse program is the only one in the United States to achieve this.
Quinn Tallant, Mack Tallant, Ryan Stakes, Andre Myers, and Joey Garland from Frederick and Hagerstown, Maryland are now a part of the honorary 25-man roster. All five boys trained with the Lionheart Lacrosse travel program for the last three years. Quinn and Mack Tallant led Maryland in scoring, finishing 1st and 2nd in the state. 
About Lionheart Lacrosse
Lionheart Lacrosse is the premier lacrosse educator in the Central and Western Maryland. The program aims to prepare players for the next level of lacrosse, life and success. Players receive training from professional coaches and and participate in clinics and exercises to developer player IQ, awareness and game speed. Lionheart Lacrosse is also the only program in Washington, Frederick, Carroll, and Montgomery counties (MD) to ever produce a Team USA junior indoor lacrosse player.