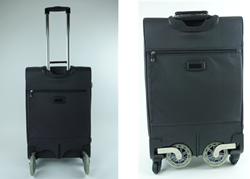 "About six years ago, I saw someone pulling luggage, and the wheels attached to it were very small. After seeing that, I thought "If the wheels are so small, it could be very inconvenient to pull the luggage over uneven or bumpy surfaces
(PRWEB) July 18, 2016
GOORU-go, the revolutionary new luggage that makes traversing difficult terrain a breeze with large folding wheels, is live on Indiegogo and raising funds to bring the project to life.
GOORU-go is an incredibly versatile luggage with one distinct and unique feature that stands out among other similar suitcases- large, retractable wheels. These wheels allow for easier carry, to navigate over bumpy terrain, and then fold to maximize space during transport.
"About six years ago, I saw someone pulling luggage, and the wheels attached to it were very small. After seeing that, I thought "If the wheels are so small, it could be very inconvenient to pull the luggage over uneven or bumpy surfaces," says founder and CEO Won-Sang Cho, "I also thought "The front lower edge portions of the luggage could easily be contacted with the ground, allowing the front lower edge portions of the luggage to be easily smeared by mud or become worn out.". Then I realized that if the wheels are made large, those inconveniences can be drastically reduced, but if the wheels are large, it may be inconvenient to keep the luggage stored in a storage unit when not in use so it would be nice if the large wheels could be folded if needed."
When users pull the handle upward on the GOORU-go, the wheels open and stretch forward. When the handle is pushed down, the wheels fold towards the centerpiece of the luggage. The large wheels provide the luggage with more stability, allowing the luggage to move more smoothly over uneven surfaces and provides for better weight distribution while remaining high enough to escape dirt, mud, and wear and tear from the ground.
The traditional types of wheeled luggage tend to lean toward the ground by the weight of the load, causing the luggage to feel heavier when pulled. When users pull GOORU-go, the luggage's center of gravity works on the large wheels which stretch outward and touch the ground,  providing the luggage with better balance.
Just like traditional types of luggage, GOORU-go also has four small wheels attached on the bottom side. In its upright position, users can move the luggage by pushing or pulling in any 360 degree direction, using the small wheels. By allowing travelers to use their luggage in either 2-wheel trolley or 4-wheel spinner mode, GOORU-go has created the world's most versatile luggage.
GOORU-go luggage is currently live and available to support on Indiegogo: https://www.indiegogo.com/projects/gooru-go-luggage/
About GOORU-go
GOORU-go has created the world's most versatile luggage that seamless transforms from a 2-wheel trolley into a 4-wheel spinner. 'GOORU-go ' is composed of 'gooru' which is derived from a Korean word 'goorudah' meaning "roll" and an English word "go".  Therefore, 'GOORU-go ' means "roll and go".
###