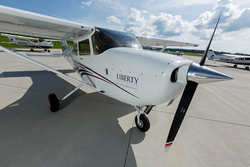 Lynchburg, Va. (PRWEB) July 18, 2016
The Liberty University School of Aeronautics (SOA) recently received Southern Association of Colleges and Schools Commission on Colleges (SACS) approval for its 44th Flight Training Affiliate (FTA) partnership, with Phoenix East Aviation in Daytona Beach, Fla.
FTAs are flight schools that partner with Liberty to provide flight training as part of the school's online Bachelor of Science in Aeronautics degree. The FTA program allows students to pursue a career as a professional pilot. Active military and veteran students, as well as those looking for a career change, can obtain their degree online while conducting all required flight training at a nearby airport. Many students are able to maintain their full-time jobs while they complete their education. Students are able to take online academic courses year-round with eight-week terms, and may finish the degree in as little as two-and-a-half years, based on full-time enrollment.
Liberty's online aeronautics program is hailed as one of the most affordable university-level aviation programs.
Initiated in January 2014, Liberty's FTA program now has over 550 students enrolled in 44 locations across the country, including schools in Washington, Hawaii, and Florida.
Schools applying to become FTAs undergo a rigorous review by the School of Aeronautics' FTA Office, followed by an onsite inspection that investigates all aspects of the flight school to ensure it meets the level of quality required to be part of the FTA program.
The FTA program recently graduated its first two students. One is working as a pilot for Aeroptic, an aerial imagery company, and the other is working as a flight instructor to accumulate flight hours and experience for a career in the airline industry.
"The reason I chose the FTA program was that it offered the highest quality education at the most affordable price for a Bachelor of Science in Aeronautics," said Charles Vazquez, FTA program graduate. "If I had to give a review of (my FTA) aviation adventures, I would give it a five out of five based on the instructors alone … all of them saw my vision and helped me to achieve my goal."
Currently, the U.S. is facing a pilot shortage in the airlines, corporate aviation, and military and mission aviation. It is estimated that there will be a need for over 558,000 new pilots worldwide over the next 20 years, according to a 2015 report in Boeing's Pilot & Technician Outlook.
Liberty's FTA program has created an innovative solution and opportunity for those who have always dreamed of becoming a professional pilot, no matter their stage of life.
"By partnering with FTAs that are nationwide, we have brought the training center to the students," said Brian Hough, executive director of business development/affiliate operations for the School of Aeronautics. "Now the student doesn't have to unplug from their family or job to attend. They simply schedule their flight training at the local FTA and complete their online degree courses around their schedule. This creates a much more flexible training environment and pathway to a very lucrative career for less than most traditional university degrees cost."
Thanks to Liberty University Online Academy — Liberty's K-12 online homeschooling program — high school students are able to get an early start on their college coursework with dual enrollment classes, while earning their private pilot's license at their local airport.
The FTA program is opening doors of opportunity for hundreds of students and meeting a growing industry need, all while providing the level of education, service and value that makes Liberty University one of the nation's top rated and fasted growing institutions of higher learning.
For more information on the program, visit Liberty.edu/FTA.
About Liberty University
Liberty University, founded in 1971, is the largest private, nonprofit university in the nation, the largest university in Virginia, and the largest Christian university in the world. Located near the Blue Ridge Mountains on more than 7,000 acres in Lynchburg, Va., Liberty offers more than 500 unique programs of study from the certificate to the doctoral level. More than 250 programs are offered online. Liberty's mission is to train Champions for Christ with the values, knowledge, and skills essential for impacting tomorrow's world.