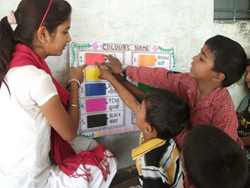 Elkridge, Maryland (PRWEB) July 19, 2016
Planet Aid today congratulated its partner organization in India, Humana People to People India (HPPI), for being honored with an award from the U.S. Agency for International Development (USAID) and the Center for Knowledge Societies (CKS) under the Read – Engage – Achieve – Dream (READ) Alliance's second "Early Grade Reading Innovation Challenge. The award, presented to four organizations that included HPPI, will be used to develop, pilot, and scale innovations to improve the reading skills of more than 64,000 primary school children in India.
Ambassador Jonathan Addleton, USAID Mission Director to India, announced the winners in New Delhi.
"Improving the early grade reading skills of school children in India will unlock opportunities for them to contribute more meaningfully to their country's economic growth and development. By supporting the award winners and their innovations, we hope to transform thousands of young children into capable readers and writers," Ambassador Addleton was quoted in a release.
According to the most recent Annual Status of Education Report from India, only 52% of children in Grade 5 are able to read a second grade level text. This trend continues despite the immense amount of effort made by the Government of India to improve the quality of education. The Early Grade Reading Innovation Challenge is focused on addressing this deficiency.
HPPI received the award because of its extensive work, supported by Planet Aid, in improving primary education in India. HPPI has developed and utilized a methodology called "Kadam" (translated from the Hindi as "step-up"), which helps build core competencies in children in a progressive fashion.
"We are very pleased that HPPI is being recognized for the lasting impact it is making on education in India," said Planet Aid President Ester Neltrup. "Thousands of children are affected positively through the training provided to teachers by HPPI. Planet Aid is proud to partner with HPPI and thrilled to have it acknowledged and celebrated by USAID and CKS."
The other recipients of this year's Early Grade Reading Innovation Challenge award are Agragamee, Educational Initiatives, and PlanetRead. Together the four recipients will share a total sum of approximately $645,000. HPPI's responsibility will be to will train 1,000 teachers at 200 primary schools in three districts of Madhya Pradesh. The trained teachers will impact 30,600 children.
The READ Alliance is a program that aims to address the challenge of early grade reading and by developing and supporting interventions in early reading across the country, and helping them reach greater scale, impact and efficacy.
About Planet Aid
Planet Aid is a U.S. 501 (c)(3) nonprofit and is registered with USAID as a private voluntary organization. It collects and recycles used clothing and shoes as part of its environmental mission. The net proceeds from its 21-state recycling operation help to support projects aimed at eliminating poverty. Since its inception in 1997, Planet Aid has provided more than $100 million to support projects on three continents.