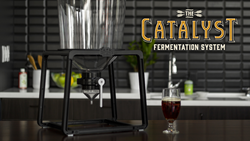 "We want to make homebrewing easier, not automated," said Westfall. "The Catalyst isn't another push-a-button beer machine. We've strived to stay true to the time-honored tradition of homebrewing while introducing modern day practicality to the process."
Orlando, FL (PRWEB) July 20, 2016
Craft a Brew (http://www.craftabrew.com), maker of premium craft beer brewing kits, surpasses $50,000 Kickstarter goal in less than five days after launching the company's newest product, The Catalyst Fermentation System. The Catalyst is an innovative piece of equipment that simplifies the homebrewing process by eliminating transferring and siphoning - making it easy to make craft beer at home.
"We sought out to create an elegant, efficient alternative to what is currently on the market - a fermenter that homebrewers could proudly display in their home," said Kyle Westfall, Founder and President of Craft a Brew.
The Catalyst Fermentation System will retail for $199 beginning Fall 2016 and is currently available for pre-order through August 17th on Kickstarter starting as low as $160. Catalyst-compatible recipe kits are also available for pre-order, which include all the ingredients necessary to brew a five gallon batch of beer.
The Catalyst features a proprietary three inch butterfly valve called The Trub Trap™, allowing homebrewers to attach any wide mouth mason jar to collect sediment during fermentation. Once fermentation is finished, brewers simply close the valve and remove the jar to discard the sediment and then move on to bottling. Experienced brewers can use the Trub Trap™ to harvest yeast for reuse in future brews, saving time and money. The system also includes a bottling attachment to simplify the bottling process.
Craft a Brew partnered with industrial engineers to design The Catalyst, keeping form and function in mind with every feature. The stand was engineered to be as rugged as it is elegant through the use of I-beam construction and a honeycomb molded bottom. The silicone gasket-lined lid provides multi-surface contact to ensure a perfect seal, protecting its contents.
The 6.5 gallon conical tank is made from state-of-the-art TritanⓇ polymer, which has the characteristics of glass combined with the benefits of plastic. Craft a Brew is the first in the homebrew industry to use this medical grade, BPA-free, dishwasher safe material.
"We want to make homebrewing easier, not automated," said Westfall. "The Catalyst isn't another push-a-button beer machine. We've strived to stay true to the time-honored tradition of homebrewing while introducing modern day practicality to the process."
About Craft a Brew: Craft a Brew's mission is to turn craft beer lovers into craft beer brewers with its premium home beer-brewing kits. They are designed to help novices and enthusiasts alike make a gallon of beer in their own kitchen, right out of the box. Founded in 2010, Craft a Brew has spent years perfecting its easy-to-use kits, sourcing the freshest ingredients and assembling by hand in Orlando, Florida. Craft a Brew currently offers 13 different beer styles, a gluten-free recipe, a hard cider making kit and other brewing accessories online at http://www.CraftaBrew.com.