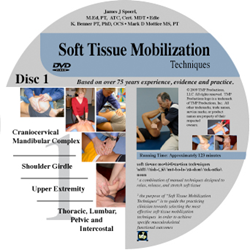 Easy to use, ~3.5 minute videos show immediately how to conduct the technique.
Cleveland, Ohio (PRWEB) August 02, 2016
Originally produced as two previous textbook editions entitled "Soft Tissue Mobilization Techniques", the manuals were published in 1985 and 1996. Through the previous writings and continued education courses the three Cleveland therapists, with over 75 years of clinical experience, have been educating students and peers over the last 25 years. The recent translation of the publication into the iPad format enhances the explanation and application of the techniques. Together, the text, photos and video, provide the most robust training tool carefully outlining therapist position, patient position, and treatment intention.
The training material is a compilation of over 116 soft tissue mobilization techniques that are presented in an easy navigational tool for both the instructor and the physical therapy student. It is formatted with the most recent literature review with evidence based research and is over 160 minutes in length. All the techniques are demonstrated by physical therapists with over 85 years of combined clinical experience. The sections are organized by body part; cervical, thoracic, lumbar, upper extremity and lower extremity. This makes it easy to navigate to target your treatment area or just review specific techniques. Each technique is demonstrated while the therapist gives insight into the application and variations of the technique with discussion on specific patient indications. This conversational approach is meant to engage the student as if they were in the room observing the techniques. Variations in both patient and therapist positions are also discussed. Additional interest is captured with the use of multiple cameras, split screens and carefully positioned camera angles that make the technique easy to learn.
The goal of the iPad version (https://itunes.apple.com/us/book/soft-tissue-mobilization-techniques/id524218524?mt=11) was to provide an integrated training tool that takes advantage of the capabilities of the iPad to combine text, photos and video in a format that can be used in the clinical setting in real time.
Authors: JEMD Publications, PO Box 35926, Canton, Ohio 44735-5926, 330-274-2747
Producer/Publisher: TMP Productions, LLC, 32184 Teasel Ct, Avon Lake, OH 44012, 440-503-1812