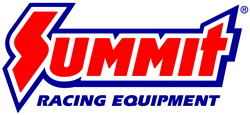 Tallmadge, OH (PRWEB) July 22, 2016
Summit Racing now offers Mustang Automatic to T-5 Transmission Swap Parts Combos for 1964.5 to 1968 Mustangs with a small block V8. Just two part numbers include all of the parts needed to complete the swap.
Automotive journalist Christopher Campbell did a T-5 five-speed transmission swap in a 1968 Mustang with a 408 cubic inch stroker small block under the hood, Read all about the swap at Summit Racing's OnAllCylinders blog.
Mustang Automatic to T-5 Swap Transmission Combo
This Combo has the parts needed to fit a Ford Racing T-5 transmission in any 1964.5 to 1968 Mustang with an automatic transmission. It includes the transmission; an American Powertrain ProFit installation kit and smooth-acting Hydramax hydraulic throwout bearing; Centerforce clutch kit and flywheel; Ford Racing bellhousing; and ARP fasteners.
Mustang Automatic to T-5 Swap Pedal and Shifter Combos
To complete the T-5 installation, add the appropriate Summit Racing Mustang Automatic to T-5 Swap Pedal and Shifter Combo—SUM-CSUMSRMA002 (1964.5-66) or SUM-CSUMSRMA003 (1967-68). The combos have the Scott Drake parts needed to install a new shifter and clutch pedal assembly—shift lever and boot, clutch pedal assembly and pedal pad, brake pedal pad, and clutch pedal roller bearing.
The brake pedal assembly is not reproduced currently. We do include a brake pedal pad and trim that cab be used on a modified stock automatic brake pedal or a pedal assembly sourced from a stick shift Mustang. Learn all about which brake pedals fit which car here.
Summit Racing Equipment
http://www.SummitRacing.com
1-800-230-3030