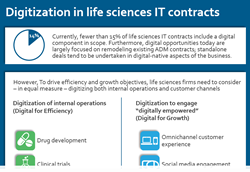 the adoption of digital is creating a new pecking order of technology savvy firms, with those that successfully use digital technology to both drive internal operations and customer-focused channels
Dallas, TX (PRWEB) July 26, 2016
Fewer than 15 percent of all life sciences transactions signed in 2015 had an element of digital services in their scope; nevertheless, digital technologies are the pivotal driver for life sciences companies as they restructure to become leaner and pursue agility in operations to drive new product development, according to Everest Group, a consulting and research firm focused on strategic IT, business services and sourcing.
To illustrate this point, Everest Group profiled 15 global pharmaceutical companies regarding their digital functionality and business impact. In "Life Sciences IT Industry: An Assessment of the Market Opportunity and APEX Matrix Assessment," Everest Group identifies Astra Zeneca, Johnson & Johnson, Novartis, Pfizer, Roche, and Sanofi as industry leaders.
This new research from Everest Group indicates that the key market trends driving digital adoption include the rising number of "born digital" healthcare consumers, the need for operational efficiencies and cost optimization, and the movement towards data-driven, personalized, evidence-based medicine.
The life sciences industry's data-rich environment (including scientific, clinical and operational data) coupled with its many market challenges make analytics a key lever to provide real-time, actionable insights and improve operational efficiency. Analytics presents value in three key areas for life sciences organizations: cost reduction, top-line growth, and risk and compliance management.
Driven by the focus on analytics and infrastructure services, recent life sciences ITO deals focus on datacenter, end-user computing, and databases/middleware services, as well as application, development and maintenance (ADM) and enterprise resource planning (ERP).
"Most of the 2015 IT outsourcing contracts in the life sciences that did include digital services, did so as an add on to existing contracts, with a focus on remodeling existing ADM agreements," said Jimit Arora, partner at Everest Group. "Digitally native contracts in life sciences are still a rarity, but we will see an increase in these contracts in the future. In fact, the adoption of digital is creating a new pecking order of technology savvy firms, with those that successfully use digital technology to both drive internal operations and customer-focused channels—i.e., digital for efficiency and digital for growth—leading the way."
Other key findings:

Market imperatives to drive 12 percent CAGR growth till 2020. The life sciences industry is in a "recovery phase" as it grapples with a multitude of challenges that are stifling R&D efficiency, changing the portfolio mix and increasing M&A/restructuring. To address the challenges, market participants are adopting technology as a means to enable quicker product development, better consumer connections and significantly improved time-to-value.
Growth is a key driver of digital investment. While efficiency and enablement of digital are aspects gaining primacy, the life sciences industry is focused on driving growth via digital channels, consumer engagement, and healthcare ecosystem collaboration.
Analytics and cloud are aspects that will drive most digital investments in the short term. When it comes to enabling a cohesive digital strategy, organizations are going to extensively leverage hybrid cloud models and focus on analytics (both prescriptive and predictive) to get to outcomes quicker
*** Download Complimentary, Publication-Quality Graphics Here ***
High-resolution graphics illustrating key takeaways from this research can be included in news coverage, with attribution to Everest Group. Graphics include:

The changing value proposition in life sciences global services
On- and nearshore delivery on the rise in life sciences IT
IT opportunity in the life sciences industry
Digitization in life sciences IT contracts
About Everest Group
Everest Group is a consulting and research firm focused on strategic IT, business services, and sourcing. We are trusted advisors to senior executives of leading enterprises, providers, and investors. Our firm helps clients improve operational and financial performance through a hands-on process that supports them in making well-informed decisions that deliver high-impact results and achieve sustained value. Our insight and guidance empowers clients to improve organizational efficiency, effectiveness, agility and responsiveness. What sets Everest Group apart is the integration of deep sourcing knowledge, problem-solving skills and original research. Details and in-depth content are available at http://www.evererstgrp.com and research.everestgrp.com.
###
Contact:
Andrea M. Riffle, Everest Group
andrea.riffle(at)everestgrp(dot)com
Robert Cathey, Cathey Communications
+1-865-386-6118
robert(at)cathey(dot)co