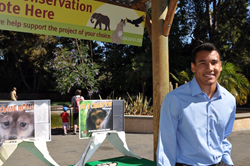 Oakland Zoo's PG&E Summer Internship Program provides these students hands-on exposure in various departments at the Zoo to help educate them on different career paths while providing a platform to enhance their learning and leadership skills
Oakland, CA (PRWEB) July 26, 2016
July 25, 2016 – Oakland Zoo and Pacific Gas and Electric Company (PG&E) have teamed together for year five of the PG&E Youth Employment Training Internship Program. The goal of the internship program is to provide underserved college students the opportunity to develop their skills and cultivate future career goals through hands-on professional experience within various departments within Oakland Zoo this summer.
Eleven interns from the local community are participating in this year's program, working in departments that include Human Resources, Animal Management, Conservation, Finance, Membership, Information Technology and Horticulture. Some within the group have already indicated they want to pursue careers in zookeeping or veterinary medicine.
"We are excited to be in our fifth year partnering with PG&E in this program that provides professional development, skills and work experience to local youth pursuing college educations. Oakland Zoo's PG&E Summer Internship Program provides these students hands-on exposure in various departments at the Zoo to help educate them on different career paths while providing a platform to enhance their learning and leadership skills," said Nik Dehejia, Chief Financial Officer at Oakland Zoo.
Shadowing zoo employees in the various departments, the interns must work twenty-four hours per week and participate in weekly reflection sessions to discuss their on-the-job experiences with each other. The program aims to help students receive invaluable work readiness skills focusing on communication techniques, time management, accountability, teamwork, and understanding the importance of workplace protocols.
The interns are paid approximately $3,000 with an additional $500 in scholarship funds for completing a 'PG&E Practical Project' for their specific department. Interns interested in employment at Oakland Zoo also have the opportunity to be considered for hire on appropriate part-time or full-time positions.
"PG&E is equally excited to celebrate our 5th anniversary of this program. This partnership with the Oakland Zoo is a milestone and signature project which has provided numerous opportunities for underserved youth in the Oakland and East Bay Communities we serve, " added Travis Kiyota, PG&E Vice President of Community Relations and Public Affairs. "PG&E's strong involvement in the Oakland and East Bay Community has centered around assuring our customers are safe, have economic development opportunities, and provide a workforce and educational pathway for our young people to succeed," Kiyota added.
PG&E has generously provided the funding for this program since its inception, supporting it as part of its commitment to providing jobs for underserved youth throughout its 70,000 square mile service area. Thanks to PG&E's support and inspired investment, Oakland Zoo's PG&E Youth Employment and Training program has proven to be a great success and will continue to grow and expand for years to come.
ABOUT OAKLAND ZOO:
The Bay Area's award-winning Oakland Zoo is home to more than 660 native and exotic animals. The Zoo offers many educational programs and kid's activities perfect for science field trips, family day trips and exciting birthday parties. Oakland Zoo is dedicated to the humane treatment of animals and wildlife conservation onsite and worldwide; with 25¢ from each ticket donated to support conservation partners and programs around the world. The California Trail, a transformational project that more than doubles our size, opens in 2018, and will further our commitment to animal care, education, and conservation with a focus on this state's remarkable native wildlife. Nestled in the Oakland Hills, in 500-acre Knowland Park, the Zoo is located at 9777 Golf Links Road, off Highway 580. The East Bay Zoological Society (Oakland Zoo) is a nonprofit 501(c)3 organization supported in part by members, contributions, the City of Oakland and the East Bay Regional Parks. For more information, go to: http://www.oaklandzoo.org