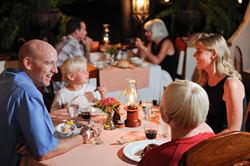 People are often surprised at how affordable a Belizean Thanksgiving is
San Ignacio, Belize (PRWEB) July 27, 2016
Thanksgiving in Belize is becoming a tradition for a growing number of families, couples and individuals, and The Lodge at Chaa Creek, a Belizean eco resort that has been hosting an annual Thanksgiving celebration for over thirty years, has now opened bookings for this year's 2016 gathering with a personal invitation from the owners.
Mick and Lucy Fleming have been celebrating Thanksgiving at Chaa Creek even before opening their family farm as Belize's first eco-resort in 1981, and said their family has continued the tradition by inviting guests to enjoy the holiday as a unique Belize vacation that combines the familiar with the exotic.
"Thanksgiving is important to us. It began as a way to give thanks after our first year of settling at Chaa Creek, which back then was a remote, overgrown orange orchard on the banks of the Macal River that was only accessible by the river or dirt track," Lucy Fleming explained.
"After clearing the bush, setting up house and finally getting some crops in, we realised that it was Thanksgiving up north, and thought it would be a great way to invite our new neighbours to share a meal with us while we counted our blessings and gave thanks.
"At the time, it struck us as being a lot like the Pilgrims' first Thanksgiving, and we've been celebrating it ever since," Ms Fleming said.
Ms Fleming was speaking after opening bookings with a personal invitation from the Fleming family for this year's Chaa Creek Thanksgiving vacation.
Given Belize's close proximity to North America, the steady increase in international air service from major cities and improved travel infrastructure and transportation options within Belize, celebration of holidays such as Thanksgiving, Christmas, New Years and life events like weddings, honeymoons anniversaries and birthdays are increasingly becoming more popular, Ms Fleming said.
"Coming down for a long weekend or week or longer has become more attractive for more people," Ms Fleming said, "Turning a traditional holiday into a more exotic overseas vacation makes more sense when you consider the proximity and affordability of Belize, and weigh what we have to offer against the costs of staying home."
"And, as the weather turns colder up north, there's much to be said for being able to enjoy swimming, nature walks, and other outdoor activities such as canoeing, horseback riding, exploring ancient Maya ruins or simply walking through the pristine rainforest that surround Chaa Creek," she added.
Chaa Creek, situated within a 400 acre private nature reserve, offers a variety of accommodation options, a fine dining restaurant and jungle lounge, infinity pool, an internationally recognised Hilltop Spa and other amenities as well as a wide range of onsite activities, which led to the popular Central American eco resort being described as Belize's "Destination within a Destination", Ms Fleming said.
"It means that there's something for people of all ages and interests to do while also relaxing and spending quality time together. I'm sure that's another reason why so many people and families are choosing to celebrate traditional holidays here," she added.
Ms Fleming said people are often surprised that Belize has a history of celebrating Thanksgiving, and that its unique combination of the familiar and exotic is another reason so many people return for the holiday and recommend it to friends.
"Thanksgiving is one of those holidays everyone enjoys and over the years it's evolved to become part of Belizean culture. You'll see traditional Thanksgiving fare such as roast turkey with mashed potatoes and gravy, sweet potatoes, pies and the usual fare served with local accompaniments such as tamales, rice and beans, and, on the Caribbean coast and cayes, fresh fish and lobster," she said.
Another appeal of a Thanksgiving vacation in Belize is that it is easy and affordable.
"When you consider the time and expense involved, hosting Thanksgiving for a group can really add up these days. Shopping and preparing all the things that everyone likes while trying to entertain at the same time can be exhausting, both physically and financially.
"With a Thanksgiving vacation at Chaa Creek, everyone gets to enjoy themselves. Relaxing around an infinity pool instead of bustling around the kitchen and then having someone else clean up and do the dishes makes it a truly enjoyable, carefree get-together for everyone."
A Chaa Creek Thanksgiving is also flexible, being offered for a day, or as a complete Belize vacation package, Ms Fleming explained.
"Guests and visitors are welcome to join us for a day, or as an all-inclusive Thanksgiving Belize vacation package, where everything from pickup at the airport to drop off, with accommodation, meals, activities and even staff gratuities are taken care of for one set price.
"However they choose to celebrate with us, people are often surprised at how affordable a Belizean Thanksgiving is," she said.
Ms Fleming advised that people can contact their travel agents or Chaa Creek directly to learn more and to secure bookings for what is becoming a more popular holiday each year.
"While Thanksgiving in Belize has become more popular, it's still an intimate event that's tailored to our guests, so we do advise that people book as soon as possible to ensure they have a chance to join us," Ms Fleming said.
ENDS