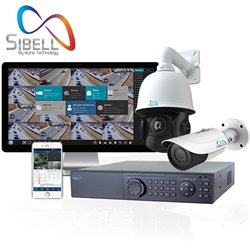 Sibell™'s User Interface can easily be interpreted as one of the most intuitive GUI's on the market.
Wheat Ridge, Colorado (PRWEB) July 28, 2016
eLine Technology, announces a complete and new User Friendly Line of High Definition Video security branded Sibell™. What sets Sibell™ apart from other products lines is the feature rich, intuitive Graphical User Interface (GUI) that is embedded into Sibell™ DVRs and NVRs. Sibell™ security systems were designed for video security, developed for usability and adapted for flexibility and affordability, making Sibell™ a professional, flexible and intuitive High Definition Experience.
Sibell's product lineup includes HDTVI Technology as well as IP Network Technology. The Sibell™ line up was constructed with a variety of camera styles and technology options in order to give security integrators, security dealers and security installers a complete and flexible line that allows for installation jobs both large and small.
Sibell's HD over Coaxial Cable Solutions allow customers to design an affordable upgrade from Analog to High Definition solution. Providing cross technology Quadbrid Cameras and Quadbrid DVRs that allow installers to mix and match technologies as customers make the switch to High Definition Video security.
The video surveillance market continues to have an increasing demand for high definition, while analog surveillance systems based on coaxial cabling are still in place. Sibell's HDTVI and Cross Technology Solutions were developed to provide a reliable HD 1080p solution over coaxial cable that is both cost effective and easy to use.
Sibell™'s User Interface can easily be interpreted as one of the most intuitive GUI's on the market. Easy to use Modular design, Quick Launch tool bars and menus, Simple Startup Wizard, Convenient Camera Management tools, powerful playback and recording features, including, Time Slice Smart and Event Search make Sibell™ and ideal video security solution for its Clear Video and Usability. Sibell™ Remote monitoring options are also consistent with its embedded features.
eLine Technology Invites you to experience clarity with Sibell™, please visit:
http://elinetechnology.com/sibell-video-security/
View the Sibell Promotional Video
About eLine Technology:
eLine Technology is a developer and manufacturer of video surveillance systems, security technology, equipment and software. Our focus is to bring our customers unique high quality security solutions and technology. Our CCTV and Video management packages deliver reliable and effective security solutions across most industries, including construction site security, border patrol security, oil and gas security, retail loss prevention, and security for grocery and convenience stores. Our experience with these industries allows us to create unique system solutions.