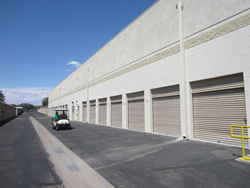 Storage West has been a part of this community for over 15 years. We hope our new amenities will enhance the storage experience for both our continuing customers and for new customers who we look forward to welcoming into the Storage West family.
Scottsdale, AZ (PRWEB) July 29, 2016
Storage West announced today that it had recently completed a major remodeling and expansion of its self-storage facility located at 7007 E. Bell Rd. This expansion adds more than 200 newly available storage units to the facility serving both Phoenix and Scottsdale.
A completely new building features convenient drive-up storage units. Additionally, an existing building at the facility was updated and expanded to include a second story level, including a multi-purpose freight and passenger elevator for easy customer access.
This Storage West facility now features indoor climate controlled units, digital surveillance, electronic access, online payments, a full line of moving and packing supplies and other features designed to enhance our customers' storage experience.
For example, the project added new unit sizes that are popular with customers—such as 10 feet by 5 feet units that can meet customers' need for quick access and indoor storage; plus larger, climate controlled, 10x10' and 10x20' units.
John Hathaway, Senior Vice President for Storage West, said, "Storage West has been a part of this community for over 15 years. We hope our new amenities will enhance the storage experience for both our continuing customers and for new customers who we look forward to welcoming into the Storage West family."
About Storage West
Storage West is a division of LAACO, Ltd., which acquires, develops and builds Storage West self-storage facilities in the western United States. LAACO, Ltd. has a self-storage portfolio of 52 properties located in Southern California, and the greater metropolitan areas of Phoenix, Las Vegas and Houston. Additional information on Storage West can be found at http://www.storagewest.com