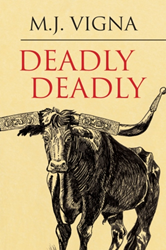 This book has it all... History, Suspense, Compassion, Animals, Love/Romance, and life as an early settler in the west. I was not ready for the story to end...! I hope we have a few more Deadly Deadly stories in the works!
Hemet, CA (PRWEB) August 02, 2016
It took M.J. Vigna's 84 years to see her first novel "Deadly Deadly" get published.
It was fortunate for the public that her daughter, Linda Ruggieri, while having a conversation where they were reminiscing, remembered a manuscript her mother had worked on decades earlier. It prominently displayed a Texan Longhorn bull as a main character. She asked her mom if she had ever completed it.
"Yes, I finished it." M.J. commented. "I have it and some other manuscripts stored away. I've asked you kids (6 middle aged adults) for years to work with me. None of you seemed interested. I've explained to all of you, many times, that I could take care of the creative side. I enjoy the writing, but need someone to handle the administrative details. You were all busy with your own lives. I finally gave up on seeing anything come of my work in my lifetime. I figured once I was gone one of you might want to do something with it."
When M.J. wrote her first novels the technology was not available to make publishing easy. Mrs. Vigna wrote her stories then stowed them away. " I could never bear the thought of sending out my manuscripts and dealing with possible rejections, etc."
Her daughter asked her aging mother to see the manuscripts. M.J. Vigna handed over several, all typed without the help of word processing and spell check.
It was obvious to her daughter, Linda Ruggieri, that the book she asked about,"Deadly Deadly" was a clear winner. Linda decided that she was going to pursue getting it published and informed her mother. "I had no idea how to traverse the world of book publishing but I was determined to figure it out."
"I was happy just to have my daughter take an interest," M.J. Vigna states. "I needed help on that end of it. Finally my daughter took charge, I waited long enough." She chuckles.
She and her daughter are both excited at how well the book has been received. At the time it was written single novels were the norm. Many of the reviewers have asked for sequels. Linda Ruggieri approached her mother about writing a sequel. She was surprised when her mom jumped at the idea. "It was really the reviewers who get the credit for motivating my mom to keep going."
"The positive reaction to this novel has given my mom a new lease on life. She spends her time researching, writing and living in the world of "Deadly Deadly." M.J. Vigna has spent the last year, at 86, writing the second book and there will definitely be a 3rd book in the series, perhaps a 4th. She is now 87.
Her daughter states she has the second book already in her hands and she is preparing it for publishing. It should be out by end of 2016, or early 2017.
"Deadly Deadly" is a western historical fiction taking place in the mid 1800's with well developed characters. It is rich with action, drama and the reality of real hardships our decendents encountered as they forged the Great West. It is an adult novel with a unique twist as it highlights a close partnership between a bull and a handsome trail boss. There is plenty in the book to appeal to both men and women.
"Deadly Deadly" by M.J. Vigna is listed on Amazon at amzn.to/16XIgXU. She can be found at facebook.com/mjvigna