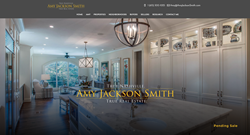 I want to provide my clients with the same level of high-end service online that I pride myself on delivering in person
(PRWEB) July 28, 2016
Local Real Estate Agent and Nashville expert Amy Jackson Smith needed to modernize her web presence. In 2016, real estate-related searches have skyrocketed both online and on mobile devices, making an internet connected device the first stop for anyone looking to buy, sell, or lease properties. It's imperative that realtors maintain a strong web presence that both advertises their portfolio of properties and also equips the end user with search tools and resources that drive educated decisions.
Smith took the dive to revamp her site, partnering with RealtyTech Inc., a boutique web development firm with years of real estate expertise. RealtyTech Inc. leveraged a multi-faceted team to design, build, implement, and troubleshoot a modern website showcasing a custom IDX portal, featured property pages, neighborhood details, and buyer & seller resources. The responsive-design site ensures it loads and displays properly on desktop computers, tablets, and mobile phones – providing a seamless, easy-to-use user interface regardless of the device.
As a successful realtor that works with high-end properties, Smith desired a website that was clean and elegant. "I want to provide my clients with the same level of high-end service online that I pride myself on delivering in person" remarked Smith, going on to note that her new website is "…a perfect, professional extension of her service and attention to detail."
Unique features like the "Showcase Home" Virtual Tour (http://amyjacksonsmith.com/showcasehome.aspx) and Neighborhood content (http://amyjacksonsmith.com/neighborhoods.aspx) add variety and information to an already robust site. RealtyTech Inc. spent many an hour working directly with Smith to tailor both the look and content to meet her target Nashville clientele. Both Smith and RealtyTech Inc. are extremely excited to see the influx of qualified, educated home buyers or sellers that choose Smith to represent them thanks to an engaging, trustworthy online presence.
About RealtyTech Inc.
RealtyTech Inc. is a Thousand Oaks, CA-based Company that gives real estate professionals the tools necessary to stand out and succeed in today's online marketplace combined with solution minded, live California-based customer service. We have over 15 years of online real estate marketing expertise and have spent over 10 years of that experience offering Agent and Office websites, IDX Home Searches and Internet Marketing. For more information, please call (805) 413-7888 or visit http://www.RealtyTech.com