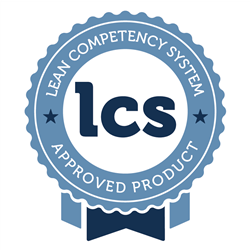 The endorsement by the LCS is a great confirmation of the power and impact our software has in support of lean and operations excellence
Reading, United Kingdom (PRWEB) August 04, 2016
ActiveOps, leaders in operations performance management are the first vendor to have a software application endorsed by the Lean Competency System (LCS). LCS is a university developed and industry recognised qualifications framework for developing lean thinking, knowledge and practical skills in the workplace.
Workware, a cloud based operations performance management application, has been awarded with the 'Lean Competency System – Approved Product' status following the successful completion of its new LCS 'seal of approval' process.
Simon Elias – Director, Lean Competency System explained "The Workware cloud solution has demonstrated that it can play an important supportive role in the development of a lean enterprise and those using it can be confident it will reinforce and sustain lean management practices.
One of the major challenges for enterprises using lean in their pursuit of operations excellence is that technology designed to help manage operations does not always encourage lean thinking and behaviour.
The Workware solution embeds lean principles and systems thinking into practical and highly usable toolsets for data capture, performance and capacity management which accelerate short and long term benefits of lean investment".
Richard Jeffery, CEO ActiveOps commented, "The endorsement by the LCS is a great confirmation of the power and impact our software has in support of lean and operations excellence.
The challenge for many organisations remains how to effectively measure performance improvement. Workware not only provide robust comprehensive data, but also the functionality to drive performance improvement using Lean capacity management techniques. By embedding Workware at the heart of Lean programmes, our clients can not only can support business cases for investment but also generate the confidence and capability to drive very significant improvement through Lean".
About ActiveOps http://www.activeops.com
Workware provides service organisations with a complete approach to operations performance management – guaranteeing productivity improvement and delivering enhanced control that will support the drive for operations excellence.
Based on the latest cloud technology Workware equips front-line managers with the capability to help operations managers and employees measure, plan and improve quality, compliance and service levels at an optimum cost.
Workware can be deployed rapidly, complimenting existing enterprise applications, supports LEAN initiatives and other operational methods including the Active Operations Management method developed by ActiveOps.
About LCS http://www.leancompetency.org
The Lean Competency System is a university developed and industry recognised lean qualifications framework for developing lean thinking knowledge and practical skills in the workplace.
It aims to promote the adoption of lean thinking (and related continuous improvement avenues of thought) in organizations in order to help improve operational effectiveness and achievement of purpose. It also helps practitioners better understand and apply lean thinking philosophy, tools and techniques so they can be more effective in their continuous improvement activities and contribute to the development, application and understanding of lean thinking.