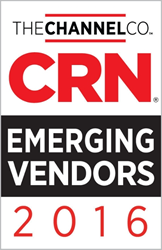 DataXoom has reinvented the market for 4G and LTE wireless data, and is offering a new class of mobile data services built for business and the channel,
Walnut Creek, CA (PRWEB) July 29, 2016
DataXoom Corp., the first value-added wholesale provider of mobile data services for businesses, announced today that CRN®, a brand of The Channel Company, has named DataXoom to its 2016 list of Emerging Vendors. This annual list recognizes recently founded, up-and-coming technology suppliers who are shaping the future of the IT channel through unique technological innovations. In addition to celebrating these standout companies, the Emerging Vendors list also serves as a valuable resource for solution providers looking to expand their portfolios with cutting-edge technology.
Even as mobile data traffic is exploding, a dearth of enterprise-class mobile data services has left the channel with few options to meet the growing demand and the increasing needs of its business customers. DataXoom is the value-added partner that enables the channel to deliver mobility solutions capable of meeting, and exceeding, those needs. DataXoom offers business customers best-in-class 4G and LTE wireless services, operating on three of the four largest U.S. mobile network networks. DataXoom customers utilize a single online interface across multiple underlying wireless networks, and receive single monthly invoice for all wireless data connectivity. The service is available nationwide, and there are never any activation fees, contracts or termination penalties with DataXoom. The company offers its channel partners an easy path to adding wireless data services to their product portfolios, and the opportunity to earn recurring monthly commissions on a customer's connected devices.
"DataXoom has reinvented the market for 4G and LTE wireless data, and is offering a new class of mobile data services built for business and the channel," says Bryan Hagedon, VP of Channel and Partnerships, DataXoom. "Resellers, ISVs and others need an expert partner that delivers enterprise-class mobile data services designed specifically for businesses. With DataXoom, the channel can provide its customers with best-in-class mobile data service across multiple devices with one single and simple account, backed by management, reporting and sales tools, and world-class customer and tech support."
"The select group of companies on our Emerging Vendors list have already made a name for themselves in their short time in the IT community, introducing leading-edge technologies with the potential to transform their segments of the IT market," said Robert Faletra, CEO of The Channel Company. "These tech suppliers are quickly making their mark on the industry and are the ones solution providers should watch in 2016."
"We are honored to be included on CRN's list of emerging vendors for 2016," said DataXoom's Hagedon. "To be among a group of standout technology suppliers is such a distinction, and is a reflection of the commitments we've made to our innovative channel program."