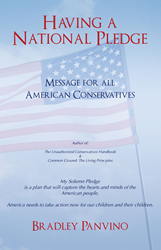 "The Pledge is an oath — a new mission statement. This signing reaffirms the loyalty of the Republican Party and reestablishes unity through a new party affirming conservative principles. This signing weeds out the old elements from the new movement."
(PRWEB) August 01, 2016
Marine Corps veteran Bradley Panvino has recently released a new book encouraging Americans to sign a "National Pledge" that embodies American ideals and beliefs. Panvino specifically encourages the Republican Party to get back to its roots and avoid political leanings that result in liberalism or socialist ideals. His new book argues that signing a National Pledge that embodies several Republican ideals will encourage future generations to adopt these ideals as their own as well.
The National Pledge that Panvino proposes is short and straightforward. To support the Pledge, Panvino also includes 16 articles on hot button issues, including problems with the Republican Party as it stands today, incorporating God into political decisions, the ideals of private property, limiting government, and abortion, just to name a few. Panvino proposes his Pledge as the new mission statement for all American Republicans.
In the book, Panvino expresses his concern with the varying roles that Republicans play in politics today. He notes that it is difficult to determine who is a "true conservative" because of the various degrees of conservatism that Republicans across the nation possess. He encourages the Republican Party and the Tea Party to become one, arguing that only then can real, meaningful change in government take place.
Panvino's hope is that with the adoption of the Pledge, Republicans can develop a cohesiveness that will allow the party, and thereby the government, to function better. He writes:
"The Pledge is an oath — a new mission statement. This signing reaffirms the loyalty of the Republican Party and reestablishes unity through a new party affirming conservative principles. This signing weeds out the old elements from the new movement."
Panvino expresses serious concern that if a National Pledge is not signed by Republican Americans, then true conservative ideals will be forever lost for future generations. Panvino urges readers: "America needs to take action now for our children and their children." Originally written as a letter to the Heritage Foundation, Panvino now shares his concerns with Americans as a whole in his new book.
Panvino is also the author of "The Unauthorized Conservative's Handbook and Common Ground: The Living Principle." Bradley Panvino's new book, "Having a National Pledge," is available through Infinity Publishing, and it can be purchased at BBOTW.com and all major online retail stores. Infinity Publishing is a self-publishing industry leader, with more than 7,000 published authors.
Infinity Publishing has revitalized the way authors view self-publishing since 1997.