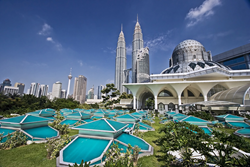 A quick comparison of business class flights to Asia demonstrates the significant savings offered by I Fly First Class' new fares starting at $3,384
Chicago, IL (PRWEB) August 02, 2016
For business travel to Bali and pleasure trips to Phuket, luxurious business class flights to Asia are now cheaper, courtesy of iFlyFirstClass.com. Leaders in the discounted luxury flight market, I Fly First Class announced its new Asian business class fares today to save travelers as much as 60 percent off regular rates. These new flight deals must be booked by December 20, 2016, and include destinations such as Singapore, Bangkok, Shanghai, Hong Kong, Seoul, Beijing, Tokyo and many more.
"These new autumn rates to Asia are especially timely for a variety of U.S. businesses that need to conduct end-of-year and fourth quarter activities in the growing Asian markets," notes Julia Graft, PR manager for I Fly First Class. "Hong Kong, Singapore, Japan, South Korea and a number of other Asian countries offer abundant business opportunities for Western corporations and enterprises."
A quick comparison of business class flights to Asia demonstrates the significant savings offered by I Fly First Class' new fares starting at $3,384. Top-rated Asian airlines ordinarily offer autumn business class flights from Seattle to Tokyo for $6,200 to $8,000. Those looking to travel from Dallas to Beijing this fall would normally expect to pay from $6,300 to $7,700, and fall business class flights from Chicago to Seoul on other discount travel sites vary from $4,600 to $11,870.
"While most American cities are dealing with cold winter weather, Asian destinations offer balmier climates and spectacular beaches," Graft says. "These new discounts mean that North American vacationers can often fly to Asian holiday destinations in sumptuous business class for economical prices. Lounging on the beach in Phuket this November is even more appealing when the flight there is affordable and made in the lavish accommodation of business class."
These I Fly First Class discounts to Asia are available on all of the major airlines, including those recently earning top honors for their business class flights. Noted for outstanding business class cabins and seats, Qatar Airways, Singapore Airlines, Japan Airlines and Cathay Pacific Airways are just a few of the top-rated air carriers included in I Fly First Class' program.
I Fly First Class' spacious, comfortable business class seats to Asia include all of the expected luxuries of business class travel. Access to exclusive airport lounges encourages business class passengers to relax, refresh and rejuvenate with plentiful snacks, private showers, concierge services and sleeping quarters. In the air, travelers enjoy over-sized seats that convert to plush, flat beds; gourmet meals; spacious work areas and personal entertainment systems as well as devoted, personalized attention.
Prospective travelers can explore the latest luxury flight deals to Asia online at http://www.iFlyFirstclass.com. There, the newest fare discounts to international cities are listed along with the best deals of the day. Travelers can also ask questions, get complimentary price quotes and receive more detailed travel information from I Fly First Class travel agents through the "Chat Now" button.
For more information about cheaper luxury flights to Asia and other international destinations, visit I Fly First Class online or call toll-free (888) 347-7817 or our facebook page : https://www.facebook.com/I-Fly-First-Class-350113835017059/