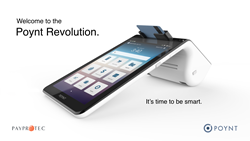 Our merchants can now have an all-in-one device that meets EMV requirements, is PCI compliant, has a SDK and API, and can communicate just like any other piece of technology. We invite you to be among the first to place Poynt EMV smart terminals
Warsaw, IN (PRWEB) August 01, 2016
PayProTec announces the new Poynt EMV Terminal Placement Program. The program created to help current and future partners place the most advanced terminal on the market. Matt Hoskins, Founder/CEO of PayProTec shares, "2007 was the year the smartphone began its true climb to marketplace dominance. Now two out of three adults carry a smartphone with many carrying two. 2016 launches the multipurpose smart terminal era in the payments space. No different than how we view the flip phone today, we will look back at the single function swipe boxes and shake our heads in amazement."
"I have been in the payments industry for over 20 years," says Marc Beauchamp, President of PayProTec, "and this is one of the most intriguing times to be in our industry. Our merchants can now have an all-in-one device that meets EMV requirements, is PCI compliant, has a SDK and API, and can communicate just like any other piece of technology. We invite you to be among the first to place Poynt EMV smart terminals with merchants."
Poynt features include a hybrid EMV (chip card) and MSR card reader, NFC and QR code payment technologies, arrives with a built-in payment terminal, register, scanner, printer, dual touch screen, a private customer-facing screen, can integrate with other third party software, can be an individual payment terminal connected to a cash register or can combine both in one, and much more. For more details about PayProTec Poynt Placement Program visit: poynt.payprotec.com.
Poynt terminals will be available for placement in qualified merchants and only through certified PayProTec partners. To sign up as a partner or to confirm qualifications, contact PayProTec at 1-844-44 MY PPT (844-446-9778), email partners(at)payprotec(dot)com, or fill out the form at poynt.payprotec.com.
About PayProTec: For more than a decade PayProTec has served 40,000+ merchants nationwide to seamlessly accept payments at their storefronts, websites, and on mobile phone applications. The PayProTec corporate team and its 1,000+ authorized resellers continually focus on cutting edge technology coupled with one-to-one service initiatives – to provide the most dependable payment solutions in the U.S. marketplace.
For Media Inquiry Contact:
Nate Manahan
PayProTec, LLC
574-269-0700
nmanahan(at)payprotec(dot)com
poynt.payprotec.com
###