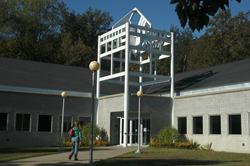 "This partnership with MCCC is a win-win for both institutions. Our students gain access to classrooms and computer labs, and MCCC's students will have a chance to complete their education without having to relocate." -Josh Wymore, exec. director, Toledo
SPRING ARBOR and TEMPERANCE, Mich. (PRWEB) August 02, 2016
Spring Arbor University (SAU), a faith-based, top-tier academic university with its campus located in Spring Arbor, Mich., has relocated its Metro-Toledo site to Monroe County Community College's Whitman Center location in Temperance, Mich.
The move was made to improve the quality and size of facilities available to SAU students. The shift also will provide MCCC students who attend classes at Whitman Center and the Bedford community with convenient and affordable access to bachelor and master degree programs on-site.
"We couldn't be more excited about this move," said Josh Wymore, executive director of Spring Arbor's Metro-Toledo site. "This partnership with MCCC is a win-win for both institutions. Our students gain access to classrooms and computer labs that are twice as nice as those currently used, and MCCC's students will have a chance to complete their education without having to relocate. Everybody benefits."
"We are thrilled to partner with Spring Arbor University to provide such a wide range of higher educational offerings and services to the Bedford community and beyond conveniently under one roof," said Joe Verkennes, director of marketing and communications at MCCC. "With this move, the Whitman Center location will not only provide opportunities for area students to complete course work at the associate-degree level through MCCC, but also at the bachelor's- and master's-degree levels through SAU."
To commemorate this partnership between SAU and MCCC, a grand opening celebration will be held from 11 a.m. to 1 p.m. Wednesday, Aug. 3. Formal remarks will be made by SAU President Brent Ellis and Monroe County Community College President Kojo A. Quartey, followed by refreshments and an open house that members of the community are invited to attend.
The Whitman Center location has seen less activity in recent years as enrollment at MCCC has ebbed. By hosting SAU in its facility, the community college can offset its overhead costs while also attracting SAU students, who need to build credit before starting their degree completion programs. Likewise, Spring Arbor University gains a natural pipeline of community college students who want to pursue undergraduate and graduate degrees.
The Christian liberal arts university will offer five degrees at the Whitman Center in the next academic year: bachelor degrees in social work, nursing and business, as well as master degrees in social work, counseling and nursing. Other options, such as management, family life education and business administration, are also on the horizon.
Spring Arbor University has been a mainstay in the Toledo area since the university first offered classes at its Secor Road location in the early 1990s. The university quickly outgrew the small facility and began offering overflow classes at Owens Community College, Davis College, Smith Road Elementary and Terra Community College. By moving into the Whitman Center, the university now can house a majority of its cohorts in a single place. Spring Arbor University plans to continue offering programs at Owens Community College and Davis College to better serve the south side of the Metro-Toledo area.
The accelerated format and convenience of Spring Arbor University's programs has contributed to its rapid growth. Each of the bachelor and master degrees offered at the Metro-Toledo site can be completed by attending classes one night a week. This design has allowed thousands of working adults across the state to pursue their education while continuing to live their lives.
Coupled with the caring Christian faculty and the strong sense of community that students gain from their cohorts, this convenient format has made SAU the university of choice for hundreds of students in the Toledo area.
MCCC's 210-acre Main Campus is located in Monroe. The college, which serves more than 3,000 credit students annually, opened the Whitman Center in 1991 near the Ohio-Michigan border in Temperance.
For more information about Spring Arbor University, visit http://www.Arbor.Edu. For more information about Monroe County Community College, please go to http://www.monroeccc.edu.
Founded in 1873, Spring Arbor University (SAU) is a Christian liberal arts university located in Spring Arbor, Michigan. SAU offers more than 70 majors and programs to undergraduate students. As a leader in adult and professional studies, SAU continues to reach out to working adults who wish to complete associate, bachelor or master degrees. With programs offered throughout locations in Michigan, Ohio and online, the University continues to meet the growing needs of its students. For more information visit arbor.edu.
Founded in 1964, Monroe County Community College is a public, two-year institution supported by tax monies from Monroe County, educational funds from the State of Michigan and student tuition.
The college's mission is to enrich and transform lives by providing opportunities and excellence in higher education. The Main Campus is located at 1555 South Raisinville Road, Monroe, Mich., 48161, with easy access to Toledo and Detroit. The Whitman Center is located in Temperance, Mich., 48182, near the Ohio-Michigan Border. Detailed information about MCCC is available at http://www.monroeccc.edu.
# # #