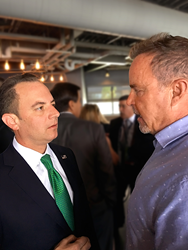 Cleveland, OH (PRWEB) August 02, 2016
The 2016 Republican National Convention was a major event awaited by Republicans all across the nation. Held in the Quicken Loans Arena in Cleveland, Ohio, between July 18 and July 21, 2016, it attracted a number of notable supporters and prominent figures, including Lloyd Claycomb - the current CEO and Chairman of the Board of United Builders Service, Inc. and AviBree Real Estate Holding, Inc. Recently appointed as Chairman of the Arizona Trump Victory campaign by the RNC, Mr. Claycomb was personally invited to partake in the high-profile event.
The Cleveland 2016 Convention presented an excellent opportunity for Lloyd Claycomb to meet with RNC Chairman Reince Priebus and discuss policy changes, the Trump campaign, and funding for the Republican Party - all pressing matters that can lay the foundation for an upcoming historic success for the party and nominee. Held significantly earlier than previous election cycles, the Convention allows access to crucial general election funds earlier to give their nominee a strong advantage heading into Election Day. Claycomb, as a major financial donor who raised over $1M for the RNC and Trump Victory campaign, is a firm believer in harnessing the Convention's potential to bridge the communication gap in order to provide voters with the information they need.
As an avid philanthropist and supporter of various causes such as autism awareness and many charitable organizations such as Amazing Facts, Our Children International, Maranatha International Volunteers, The Suva, Fiji Mission and the recently launched Our Warriors at Home, Lloyd Claycomb's vision aligned with that of the Host Committee in working with Destination Cleveland as well as several civic and public organizations including the City of Cleveland, Cuyahoga County, TeamNEO, JumpStart, Greater Cleveland Partnership, Neighborhood Progress, Downtown Cleveland Alliance and BioEnterprise, as well as a range of for-profit organizations for the creation and curation of important information.
Over $200 million in direct funding, 50,000 visitors, 18 million views on Facebook alone, and over 4.5 million views on YouTube Live demonstrated that the Republican National Convention in Cleveland was, indeed, a success on multiple levels. Hundreds of members of the media and Republican messengers conducted thousands of interviews and many state and national government representatives were able to meet and discuss pressing concerns about the current political climate. Lloyd Claycomb met with Senator Jeff Sessions, Governor of New Jersey Chris Christie, Governor of Arizona Governor Doug Ducey, Ben Carson, Laura Ingram and Willie Robertson of Duck Dynasty, and other large donors and supporters of the Republican Party. As a strong supporter of immigration and education reform, Lloyd was able to lay out his views and experience in promoting the creation of sustainable and close-knit communities through the collective professional and personal efforts of local businesses and individuals and partake in ensuring this message reached millions of people nationwide.