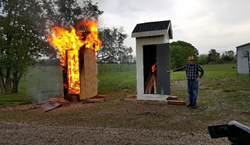 Our new fire retardant coating will save lives while making the production of fire retardant products more cost effective. - Jeff Perry CEO/Executive Director
Overland Park, KS (PRWEB) August 02, 2016
Fire Door Solutions, headquartered in Overland Park, Kansas, announces the patent pending for and availability of its innovative Flame Shield™ coating and adhesive for use in a variety of commercial manufacturing and in-field construction applications. Given the popularity of almost entirely wood-frame structures in residential single-family homes and modern two-to-six story apartment buildings, this product is expected to save lives and protect fire fighters in case of a fire emergency. Families with homes in rugged, dry terrain where forest fires are common will benefit greatly from construction materials and the post-construction application of this coating/adhesive.
Independent lab testing on a variety of panels and substrates indicates a rating of two-hours; evidencing that people inside the structure and specific area are protected from fire for two-hours with walls and openings rated accordingly. Preliminary, non-independent testing, combining lighter weight and stronger combinations of materials, have yielded even better results.
Fire Door Solutions anticipates the Flame Shield® coating, adhesive, and core/panel designs, currently in R&D, to enhance applications in commercial fire door manufacturing, OSB and plywood manufacturing, plastics lamination requiring fire retardant properties, steel girder fire-proofing, and post-construction fire-proofing of commercial and residential construction.
Companies interested in learning more should contact Jeff Perry at Fire Door Solutions. Fire Door Solutions provides a variety of exclusive products to the fire protection and compliance industry including its Fire Door Thru-bolts™ and Fire Door Caulk™.
Fire Door Solutions is an innovator and industry leader, fully accredited by ANAB as an ISO 17020 third-party inspection body for fire door inspections, fire damper inspections, and in-field re-labeling of fire doors and frames. Contact Fire Door Solutions at (855) 714-3473 or read more at http://www.firedoorsolutions.com.