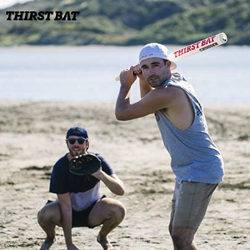 New York, NY (PRWEB) August 04, 2016
ThirstBat™, a fully functioning range of sports bats that also double as drinking vessels, developed by entrepreneur Torben Landl and his business partner Matt Taggart, are available for purchase on the Kickstarter platform, taking their backyard creation live to the world. The entrepreneurs are hoping for a swell of support to get them over their first hurdle of pre-selling $20,000 worth of bats.
"Now is the chance for people to step up to the plate or to the "crease," and turn baseball and cricket with friends into a real party," said Landl. "ThirstBat™, the bat/bong combination is the solution, and who else but a couple of Kiwis could come up with it?"
Currently available as a baseball bat or a cricket bat, they are the perfect companions for year-round outdoor fun. Trademarked, design patented, injection molded from lightweight, durable food grade plastic, these bats come in two sizes: The Chugger (baseball bat), which holds 30 fl. oz, and The Slogger (cricket bat), which holds 50 fl. oz of liquid. They feature an integrated bottle opener and slow release valve for drinking with ease, and can still smash the homer or crush that 6. The ThirstBat™ comes in a range of colors, and personalized and branded bats will also be available for bulk orders for teams and resellers. The bats start at $25 USD.
The ThirstBat™ has already got people's attention. "We have travelled around the world and have shown people the prototypes and they can't get enough of it," said Landl. "We have tested the bats extensively and everyone has had a huge amount of fun."
Recently at the AT&T Park, home of the San Francisco Giants, one devoted baseball fan declared, "A bat and a beer bong? Genius!"
Apart from their sheer novelty factor, ThirstBats™ are fun and practical! Whether at a backyard baseball game, a fun BBQ challenge, at the beach, or an entertaining addition to a tailgate party, players can get to enjoy their favorite ball game with a fun, thirst quenching twist!
Get in the game and buy your very own ThirstBat™ today: bit.ly/ThirstBat
For more information visit http://www.thirstbat.com.
About the Partners:
Torben Landl, a classic Kiwi inventor, his nine to five is dedicated to technical and manufacturing start-ups. Consumer-centric Torben focuses on packaging and tweaking existing market offerings to create solutions, and like all Kiwis he is sports mad and enjoys nothing more than reflecting on a job well done with a cold beverage with mates.
Matt Taggart is the founder of Ozone Kites, the leading manufacturer of kites for surfing and skiing. Hailing from the UK, he now calls New Zealand home, and is a legend in the manufacturing and product design industry. He has enjoyed international success with his market leading Ozone Kitesurf and is an enthusiastic and fierce kite surfing competitor with an expansive love of life.
For further information, images or interviews please contact ADinfinitum PR:
Jillian Chertok: jillian(at)adinnyc(dot)com
T: 212-693-2150 x311