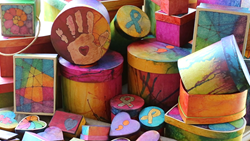 To be able to give something special...that's much more of a gift.
Leawood, KS (PRWEB) August 04, 2016
hARTshare announces the launch of a Kickstarter campaign that will allow the public to begin playing a new interactive social game that combines a web based application with the simple real world act of gift giving among friends and family. Players have fun while spreading important messages and generating awareness of timely causes.
The hARTshare™ game begins when artistic boxes are shared and re-gifted around the globe, with each participant sharing his or her story in the box's unique online travel log. As the social game plays out, perpetual stories build, awareness of timely causes is raised, people are connected and new friends are made across geographic and social borders.
Players take on one or more roles as givers, recipients, artists, and observers and can play multiple games simultaneously by starting new travel logs with each one-of-a kind artistic gift box given.
To begin a travel log, givers either create a box themselves or choose from many one-of-a-kind gift boxes soon to be available in the hARTshare™ online marketplace. Givers attach a uniquely coded hARTshare™ Passport to the box which unlocks the box's unique travel log, before gifting to friends and family. The box is then re-gifted and the chain of players builds.
Game participants work together to build content in a box's travel log including personal stories and photos from each giver as he or she receives a box and passes it on to the next recipient in the journey. Stories reflect what participants think is important, and boxes themselves can carry themes of timely causes. Observers read the travel logs with interest and compassion because the characters and the story lines are real.
Along the box's journey talismans or prayers can be permanently added by participants to bring luck, protection and good intention to future receivers. Unlike the actual gifts inside the boxes, talismans and prayers are intended to remain with the box for the duration of its journey and are tracked in the box's travel log.
Journey milestones are noted in each travel log and game participants can work to accumulate ratings and badges for a multitude of reasons, events, and challenges won.
Member artists have the freedom to begin themed series for their artistic boxes, which focus on causes and messages that resonate with them and the givers that follow them.
The ability to tailor a hARTshare™ one-of-a-kind box to the individual recipient makes it a unique gift for friends and family. "To be able to give something special...that's much more of a gift," says Jen McGonigle.
Early adopters can start playing the social game before anyone else by obtaining hARTshare™ Passports and game boxes starting at $5, currently available through the Kickstarter campaign, now through August 31st. Artists interested in participating in the hARTshare™ marketplace can sign up early via the Kickstarter campaign to forgo the juried application process.
The patent for the hARTshare™ concept is currently pending. Inventor and owner, Jani Bryson, is an award winning photographer and entrepreneur from Leawood, Kansas. hARTshare™ is a division of Studio J, Inc.