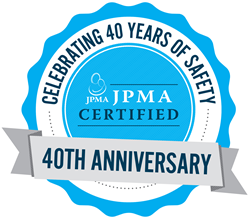 The JPMA Certified Seal represents the highest standards in consumer safety testing for juvenile products
Mount Laurel, NJ (PRWEB) August 09, 2016
The Juvenile Products Manufacturers Association (JPMA) is pleased to announce the 40th anniversary of the JPMA Certification Program and Seal. Launched in 1976 with a focus on high chairs, the Certification Program now includes 24 different product categories, over 2,000 Certified Products, and it has become the safety standard of excellence for juvenile products across North America.
While all baby products sold in the U.S. must meet minimum government regulations, only JPMA Certified Products can claim to meet or exceed federal, state, local, and national retailer safety requirements as well as a voluntary ASTM International standards created by the industry. The main purpose of JPMA Certification for consumers is to remove the safety-related guess work from the buying decision and to encourage parents to look for the JPMA Certification Seal as a symbol of quality, safety, performance and functionality for juvenile products.
"The JPMA Certified Seal represents the highest standards in consumer safety testing for juvenile products," said Lindsay Harris, Chairman of the JPMA Certification Committee. "Selecting a product with the JPMA Certified Seal means that the manufacturer of your product voluntarily subjected it to additional layers of sample testing by an independent, third-party laboratory, in state-of-the-art facilities, and in the end, it meets or exceeds all governmental, regulatory and retailer safety requirements."
Participation in the JPMA Certification Program underscores an unwavering commitment from JPMA, manufacturers, and retailers to develop safe products for children. The JPMA Certification Program also represents a concerted effort between industry, regulators, and consumers to develop and promote safe selection and use of juvenile products. Parents can look at a JPMA Certified Product with confidence, knowing it was carefully sample tested to the strictest standards developed for a specific product category.
"JPMA and the industry have come a long way since the JPMA Certification Program was introduced," said Kelly Mariotti, JPMA Executive Director. "Forty years ago, the Certification Program was limited to high chairs and industry self-regulation, but today, the JPMA Certification Program is so much more, providing parents access to thousands Certified Products, and it assures manufacturers' products are safety compliant and ready-for-baby."
To learn more about the JPMA Certification Program, JPMA Certified Products or the certification process, please visit jpma.org or contact Lisa Trofe, Director of Product Safety & Certification, at ltrofe@jpma.org or 856.380.6896
About The Juvenile Products Manufacturers Association (JPMA)
The Juvenile Products Manufacturers Association (JPMA) is a national trade organization of about 250 companies in the United States, Canada and Mexico. JPMA exists to advance the interests, growth and well-being of North American prenatal to preschool product manufacturers, importers and distributors marketing under their own brands to consumers. It does so through advocacy, public relations, information sharing, product performance certification and business development assistance conducted with appreciation for the needs of parents, children and retailers. Each year, JPMA sponsors Baby Safety Month in September to educate parents and caregivers on the importance of the safe use and selection of juvenile products.
To find out more information about the JPMA Certification Program, the products certified and for a complete listing of JPMA members, please visit http://www.jpma.org. Follow JPMA on Twitter @JPMA, connect with JPMA on Facebook or on YouTube and visit http://www.jpma.org to learn more about additional safety tips and other JPMA initiatives.