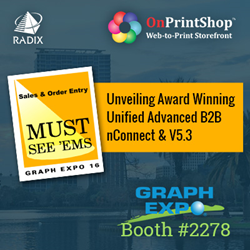 Unveiling Unified W2P Advanced B2B nConnect to Simplify, Integrate, and grow PSPs' print business with one solution. Booth #2278 Graph Expo 2016
Ahmedabad, India (PRWEB) August 09, 2016
The Radixweb OnPrintShop Unified W2P Advanced B2B nConnect has won a 2016 MUST SEE 'EMS Award in Sales and Order Entry and heading to North America's largest Print-Centric tradeshow Graph Expo 2016. Selected by a panel of industry-leading experts, the annual Must SEE 'EMS Awards recognizes the most innovative technology and convincing products being showcased at Graph Expo.
The award-winning Unified Advanced B2B nConnect – a Radix Framework' been developed into a powerful platform to quickly integrate proven capabilities. OnPrintShop team works as IT team to customize/integrate, provide real-time support 24*5, consistent upgrades and migration services.
Advanced B2B nConnect making its debut at the show to address the flexibility and productivity needs of today's print providers. The Graph Expo visitors can schedule meet now to confirm live demo and one-on-one discussion with OnPrintShop experts at Booth #2278.
"We are honored to be recognized for our commitment to developing the most innovative web-to-print technologies and bringing the most easy-to-use products to the printing industry", said Dharmesh Acharya, COO, Raidxweb, OnPrintShop. "Print Service Providers looking for ways to optimize print business and enjoy flexibility & productivity should by all means visit us at booth #2278 Graph Expo 2016. We are especially excited to launch our award winning Unified-W2P Advanced B2B nConnect and V5.3 which promises to be a striking change for the Print Service Providers."
"To continue growing in today's competitive market is to ensure, PSPs' platform gives them control to quickly adapt to fast changing needs of client and business", said Naresh Bordia, VP, OnPrintShop. "Currently, PSPs are having 3 major challenges – 1. Losing Corporate/franchisees clients for not able to meet the varied need for print orders, 2. Investing in multiple w2p to match clients ordering needs, ultimately managing getting time-consuming, complex and costly, 3. Struggling to have a single platform where both business strategy and client needs get accomplished. Unified-w2p-Advanced-B2B-nConnect platform was introduced to bring innovation by offering single platform & flexibility to PSPs to optimize strengths & grow."
Unveiling W2P Advanced B2B nConnect – Offering Even More Flexibility and Productivity
Unified-W2p Advanced B2B nConnect offers scalable Radix w2p framework to integrate PSPs unique business model, such as multiple sales channels like B2C, B2B, Re-sellers, and Advance B2B to manage complex print ordering for B2B/Franchisees on a single platform with the flexibility to customize and integrate multi-vendor technologies.
PSP selects the base solutions according to its business model from the wide range of easy-to-use solutions specially designed for the print industry over 9 years with all ecommerce, business logic and print order management features.
Advanced B2B has everything built into setup complex print ordering B2B Branded store fronts with corporate admin to manage departments & users, approval rules, store & user profiles, corporate specific products & templates, reports, secured login, client specific databases, taxation, profile & complex rule based HTML template personalization and kit products.
It also provides a platform and Modular architecture allows easy customizations, third party integrations such as design tools, LDAP/SSO, payment & shipping gateway, Workflow, Order fulfillment API, CRMs, Accounting, Marketing tools and the like.
At Graph Expo 2016
Visit Radixweb OnPrintShop in booth #2278 at Graph Expo featuring MUST SEE 'EMS award winning Unified-W2P Advanced B2B nConnect, launching advanced and more powerful V5.3 along with wide range of cutting-edge web2print technologies and one-one-one consultation.
About OnPrintShop:
OnPrintShop is a flagship product of Radixweb, an ISO 9001:2008 certified IT services provider with 16+ years of experience in delivering enterprise-class solutions for diverse industry verticals. With over 9+ years' experience delivering SaaS to custom Web to Print Software from start-ups to large PSPs & Fortune 500 companies, OnPrintShop has been recognized as the most simple & easy to use Online Printing Software provider to automate the print process from online order to delivery. Delivering personalized support 24/5 & work as a PSPs IT team. The range of solutions is powered by advanced technologies with flexible investment options-SaaS & highly customizable License Solutions. The Solutions - Platinum W2P, Online Photobook, Trade Printer, Multi-Store W2P Central Admin, Book Module, Custom-made Solutions. For details, please visit http://www.onprintshop.com