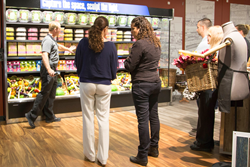 Conyers, GA (PRWEB) August 09, 2016
Supermarket Sense 2016 will bring together retail operations, thought leaders and dedicated food retail industry professionals for a comprehensive and collaborative training event next month in the Atlanta metro area. Sponsored by Hillphoenix, Unified Brands, Datassential and Harold Lloyd Presents, the two-day event will be held in Conyers, Ga. on September 21-22.
Dedicated to the latest and greatest industry trends, technology, product applications and retail programs, Supermarket Sense 2016 will offer a full roster of enlightening training and workshop sessions, including the following:

Make Every Package Count: What packaging is right for your store's need? Learn from Iowa State University's Dr. Keith Vorst about the ideal materials and types of packaging for specific store applications, merchandising and display ideas.
Engaging Digital Signage Opportunities for Food Retailers: Digital technology can be a great tool with which to engage and inform shoppers, but when and where are the best digital in-store opportunities? Anthony International's Carre' Bistline will share best practices and more.
Lunch and Teaching Session: Chef Steve D'Angelo and Michael Williams will take you on a tasty tour of Unified Brands' culinary center and provide tactical tips on making sure your kitchen operations meet the highest standards in food preparation.
Trends and Predictions in Foodservice 2016: Ready for flavor trends to go "hyper-regional?" What's the new savory? And what about the Year of the Pulse? Datassential's Mark DiDomenico will explore macro and micro trends for supermarkets and convenience stores and offer up expert predictions for the foodservice industry.
The Art of Lighting: Hillphoenix's Jack Sjogren and Margie Proctor will discuss in detail how lighting affects merchandising and food presentation within various case types, including merchandising to the human senses, maintaining product integrity and how to present different package types behind doors.
Who should attend: Directors and managers in both supermarket operations and procurement, merchandisers and architects, as well as store owners, department managers and designers, will not want to miss this unique opportunity for quality instruction and networking. Supermarket Sense provides attendees with intimate, in-depth courses specifically designed for hands-on learning. Classroom and break-out sessions offer an interactive learning experience from industry experts. To register, please visit http://www.supermarketsense.com/registration/.
Supermarket Sense 2016 will take place at the Hillphoenix Design Center, just east of Atlanta. For more information about the program, please visit http://www.supermarketsense.com or contact us at info(at)supermarketsense(dot)com.
About Hillphoenix
Hill PHOENIX Inc., a Dover Company, is based in Conyers, Georgia. The company designs and manufactures commercial refrigerated display cases and specialty products, refrigeration systems and integrated power distribution systems. Visit http://www.hillphoenix.com or call 800-283-1109 for more information.