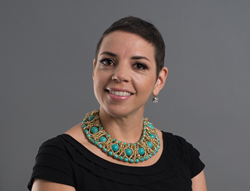 "Millennials, Hispanics, moms, they are the three consumer segments that hold the greatest potential for marketers and brands in today's America.
New York, New York (PRWEB) August 11, 2016
Verena Thompson, Chief Strategy Officer of Conill, will show brand marketing and ad execs who attend M2Moms®, the 12th Annual Marketing to Moms Conference, how to unlock the tremendous purchasing power of Latina millennial moms. Thompson's presentation, "Millennial Latinas: Winning the Heart of Mama" highlights the opening morning of M2Moms® to be held October 4 & 5, 2016, New World Stages, NY, NY. M2Moms® is an executive learning event designed to teach brand marketers and ad execs how to build more business with today's mom.
According to Lauren Sweeney, M2Moms® producer, "Hispanics are the fastest growing segment of the millennial moms market. They represent 50% of U.S. population growth 2000-2012, and spend over $1.3 Trillion annually." Thompson added, "Millennials, Hispanics, moms, they are the three consumer segments that hold the greatest potential for marketers and brands in today's America. Combine them all and the result is the Millennial Latina Mom, a huge opportunity for marketers in almost every category." Conill is one of the fastest growing and most highly awarded multicultural agencies in the U.S. Its clients include Aflac, Procter & Gamble, T-Mobile and Toyota Motor Sales.
"Verena's millennial Latina moms presentation is a great example why brand and ad execs from virtually every product category attend M2Moms®," Sweeney explained. "They know the research and case studies, the new techniques and how-to sessions really help them improve their marketing and sales to moms. Moms really are brand-critical decision makers for a broad range of products and services. The Fast Facts Page on M2Moms® website is filled with statistics showing that moms buy everything from sports drinks to prom dresses, diapers to dog food, lipstick to laptops, autos to pharmaceuticals. They buy for their homes, for their kids and they plan and pay for the family vacation. They purchase on every channel, every possible screen … traditional and new media, they use it all."
"Every year," Sweeney continued, "M2Moms® is attended by a really comprehensive and diverse list of brands including Microsoft, Johnson & Johnson, Evenflo, IKEA, Abbott Nutritionals, GM, Allstate, Heinz, Symantec, Hasbro, BBC, NBA, Procter & Gamble, Wyeth and Coca-Cola. M2Moms® attendance typically sells out."
2016 M2Moms® sponsors include Presenting Sponsor Google, Associate Sponsors: Twitter, Mabel's Labels, Conill, and The Family Room; Showcase Sponsors: NBC Universal/Sprout, Ibotta, Influence Central, Ipsos, Lake Group Media, Parent Society, Macaroni Kid, C+R Research, Acorn, Strottman, Social Media Link, Collective Bias, C Space, Mom 365, LiquidPCH, and The Bump. Video Content Resource Sponsor: Snippies.
Verena Thompson, Chief Strategy Officer, Conill
As Conill's senior brand strategist and consumer insights guru, Verena Thompson sets the tone and direction for the agency's Business Strategy practice to better understand what influences and connects people in a changing multicultural society.
Verena's experience spans borders, languages and cultures throughout Latin America and the U.S., including the General, Hispanic and African American markets. She has helped ignite meaningful long-lasting connections between people and brands for such clients as Target, T-Mobile, Toyota, JCPenney, Dos Equis, The California Milk Processors Board (Got Milk?), Foster Farms (poultry), Infiniti, Volvo, Valvoline and Comcast, among others.
Verena's work has been highly recognized by industry peers, including multiple Effies, Cannes Lions, US Idea and Wave festival awards, among many others.
Verena has taught at the Austral University, one the most prestigious Universities in Argentina. She has also made appearances in a variety of media outlets, including Forbes, CNN en Español, Univisión and HITN, among others.
For M2Moms® information: http://www.m2moms.com or 860.724.2649 x11. M2Moms® is produced by PME® Enterprises LLC, 912 Silas Deane Hwy., Suite 101, Wethersfield, CT 06109.