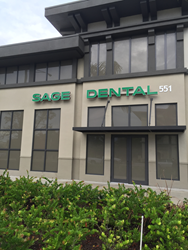 "We continue to see demand for quality affordable dental care in Central Florida. We are thrilled to bring on Winter Park as part of our continued growth and will aim to exceed our patient expectations with the best and most positive dental experience."
Boca Raton, Florda (PRWEB) August 10, 2016
Sage Dental is pleased to announce the opening of its 45th state-of-art dental care office. The new office is scheduled to open on September 6, 2016. The goal of this new office is to further provide the residents of the beautiful Winter Park area with the high quality oral healthcare services that Sage Dental is known for.
This new Sage Dental office will be conveniently located in 110 South Orlando Ave. Suite 10 Winter Park, FL 32789; this brand-new Sage Dental office will be equipped with the latest dental technology and a full range of treatment options to meet the individual needs of each patient. Sage Dental of Winter Park will have reasonable and affordable treatment options as well as new patient packages. The new facility will offer general and cosmetic dentistry.
"We continue to see demand for quality affordable dental care in Central Florida. We are thrilled to bring on Winter Park as part of our continued growth and will aim to exceed our patient expectations with the best and most positive dental experience." explains Rebecca Longo, VP of Marketing of Sage Dental.
Sage Dental of Winter Park is now scheduling appointments and accepting new patients.
To request an appointment, call 407-691-3447 or go to https://www.mysagedental.com/office/winter-park/
About Sage Dental
Founded in 1997 and having treated over 500,000 patients, Sage Dental is one of the leading providers of dental health services in Florida offering cosmetic, preventive, general, reconstructive, and specialty dentistry. With over 40 convenient locations throughout South Florida, the Treasure Coast and Central Florida, Sage Dental is equipped to serve all of your dental needs. Whether you are looking for a General Dentist or a Specialist such as an Orthodontist, Oral Surgeon, Endodontist, Periodontist or a Pediatric Dentist, Sage Dental does it all.