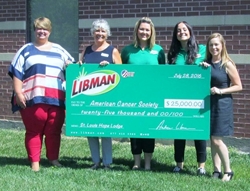 With so many lives touched by cancer in this country, we wanted to do our part to ensure that those patients and families away from home aren't burdened by extra worries and expenses -Andrew Libman, president of The Libman Company
Arcola, Ill. (PRWEB) August 10, 2016
The American Cancer Society is pleased to announce that The Libman Company, a leading U. S. manufacturer of household and commercial cleaning products, has donated $25,000 to the Hope Lodge in St. Louis. There are currently 32 Hope Lodge's across the country and in Puerto Rico that provide no-cost lodging and support to cancer patients and their families who must travel away from home to receive treatment.
"With so many lives touched by cancer in this country, we wanted to do our part to ensure that those patients and families away from home aren't burdened by extra worries and expenses," said Andrew Libman, president of The Libman Company. "We are happy to support the American Cancer Society's efforts to support patients and their families," he said.
"Thanks to the generous donation from The Libman Company, we can continue to provide a nurturing, and comfortable environment for cancer patients and their families so that they can focus on their battle with cancer and not the added financial expenses incurred from staying away from home," said Brittney Haas, assistant director of Hope Lodge.
The donation from The Libman Company sponsors the Hope Lodge St. Louis' bone marrow transplant room, reserved for guests with additional requirements while undergoing the transplant. The $25,000 assists with specialized cleaning and upkeep to keep the space germ-free.
In 2015, cancer patients saved an estimated $36 million in hotel expenses thanks to Hope Lodge facilities across the country which provided more than 267,000 nights of free lodging to them. Collectively nationwide, Hope Lodges serve about 44,000 patients and their caregivers yearly. Each Hope Lodge offers sleeping accommodations for two – a guest undergoing cancer treatment and his or her caregiver. In addition, there are community dining, laundry, kitchen and recreational areas.
For more information about the Hope Lodge program, please call the American Cancer Society day or night at 1-800-227-2345 or visit cancer.org/hopelodge.
About the American Cancer Society
The American Cancer Society is a global grassroots force of more than three million volunteers saving lives and fighting for every birthday threatened by every cancer in every community. As the largest voluntary health organization, the Society's efforts have contributed to a 20 percent decline in cancer death rates in the U.S. since 1991, and a 50 percent drop in smoking rates. Thanks in part to our progress nearly 14 million Americans who have had cancer and countless more who have avoided it will celebrate more birthdays this year. We're finding cures as the nation's largest private, not-for-profit investor in cancer research, ensuring people facing cancer have the help they need and continuing the fight for access to quality health care, lifesaving screenings, clean air, and more. For more information, to get help, or to join the fight, call us anytime, day or night, at 1-800-227-2345 or visit http://www.cancer.org/fight.
About The Libman Company
The Libman Company is a family-owned company that has been making quality cleaning tools since 1896. The company manufactures products from brooms and mops to more specialized tools for kitchen and bathroom cleaning and industrial uses. Libman proudly manufactures most of their products in the United States, including the company's well-known Wonder® Mop. For more information about the Libman Company, please visit http://www.libman.com.