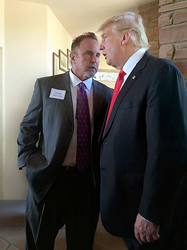 (PRWEB) August 10, 2016
The Republican National Committee (RNC) and Donald J. Trump for President have just announced 2016 State Victory Finance Chairs in thirty-three states and Washington, D.C. The RNC and the Trump campaign are continuing their collaboration and commitment as part of the on-going effort to raise the support needed to win the White House and expand a nationwide network of dedicated supporters. One of these supporters - Lloyd Claycomb rightfully made the cut for appointment for 2016 State Victory Finance Chair.
The sheer number of supporters interested in coming on board is a clear representation of the positive impact of the Republican National Convention held in Ohio earlier this month. Months ahead of Election Day, thanks to the strong dedication, commitment, experience and expertise to individuals like Lloyd Claycomb, the RNC and Trump Victory Finance Chair are coming one step closer to seeing the results of their efforts. The Victory Finance Chairs in the states are ready to work hard to continue raising the support that is needed to keep Democratic candidate Hillary Clinton out of the White House. Numerous individuals who share Lloyd Claycomb's vision for this country as well as courage to pursue his ideals are determined to make a difference in the Republic Party's mission to keep its majorities in the House and Senate. Because of his extensive business expertise such as his position as CEO of United Builders Service, Inc. along with his successful fundraising for the Republican Party (over $1M last month alone), Lloyd believes firmly in the mission of the party.
Donald J. Trump personally thanked the new additions to his team as it was an exciting opportunity to experience fundraising and business expertise come together to improve the preparation of the Republic Party for the long fight ahead against Hillary Clinton. The state chairs include North Dakota Rep. Kevin Cramer, Former Florida U.S. Rep. Steve Southerland, current Florida State Rep. Carlos Trujillo, and financier Wilbur Ross amongst others.
The announcement of the 2016 State Victory Finance Chairs list follows the RNC and Donald J. Trump for President entering into joint fundraising agreements (JFAs). These agreements will allow the Donald J. Trump for President campaign with the intent to raise funds the national party will use to elect Republicans at all levels ahead of the presidential election, allowing the keeping of Republican majorities at the local, state, and national level.
Trump Victory represents a joint fundraising committee between the RNC, Donald J. Trump for President, and the State Republican Parties in the following states: Arkansas, Connecticut, Louisiana, Mississippi, New Jersey, New York, South Carolina, Tennessee, Virginia, West Virginia, and Wyoming.