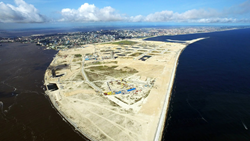 "I am also surprised by how much development has taken place since I was last here, most roads have been constructed with numerous buildings nearing completion. Eko Atlantic is a wonderful opportunity for British business to make a difference in Nigeria."
Lagos, Nigeria (PRWEB UK) 26 August 2016
Lagos, Nigeria: Eko Atlantic City, one of the world's most advanced new cities being built on the shores of the Atlantic Ocean in Lagos, Nigeria, has been described as a great opportunity for British businesses to make a difference in Nigeria.
This statement came from no other than the British High Commissioner to Nigeria, Paul Arkwright during a tour of the project site by a trade delegation of the British Prime Minister recently, led by John Howell, a Member of Parliament and British Prime Minister's Trade Envoy to Nigeria.
Arkwright said he was amazed by the sheer size and ambition of the project which has replaced land that has been lost due to coastal erosion. "I look forward to seeing the city develop and become a home to British business," he said, adding: "I am also surprised by how much development has taken place since I was last here, most roads have been constructed with numerous buildings nearing completion. Eko Atlantic is a wonderful opportunity for British business to make a difference in Nigeria."
In his comments, Howell described the project as an amazing feat of engineering, and commended the handlers of the multibillion dollar project, South Energyx Nigeria Limited, a subsidiary of the Chagoury Group for "the ambitious work being undertaken." He said the project is a hugely innovative and exciting project for Nigeria. "I look forward to future discussions on the ways that UK businesses can facilitate the scale and ambition of this project in areas such as construction and retail," he said.
Also on the UK team were Ahmed Bashir, Acting British Deputy High Commissioner; Laura Mackie, Executive Assistant, UK Prime Minister's Trade Envoy to Nigeria; Wale Adebajo, British Deputy High Commission's Press and Boma Beddie-Memberr, Executive Assistant, Acting British Deputy High Commissioner.
Briefing the delegation, the Development Director, South Energyx Nigeria Limited, Pierre Edde said that on completion, the City will be home to about 450,000 residents, providing office facilities for another 150,000 people, with commuter volume expected to exceed 300,000 people daily. In addition, he said, new city will be totally self-sufficient and sustainable, generating its own power, clean water and advanced telecommunications facilities.
He pointed out that the project was designed to change the face of the Lagos coastline by permanently solving the problem of the incessant ocean surge that had threatened to overrun the Victoria Island and Lekki areas of the state. He described the project as an investors' delight, with promise of quick return on investment. He urged investors, especially Nigerians in diaspora, to take the opportunity offered by this emerging city to increase their investment in Africa's most populous nation.
According to him, upon completion, Eko Atlantic City will become Africa's main business hub, with its Central Business District already positioned to become the new financial headquarters for Lagos and, indeed, the entire country.
Edde said the project was rapidly approaching completion and restated the Chagoury Group's commitment to ensuring that the project is completed on schedule. He told the delegation that one of the first two residential buildings in the new city would be completed by the end of August, while the second would be ready before the end of the year, with the first office block set be ready between September and October, 2016.
On investment opportunities in real estate in Nigeria, he disclosed that the country currently has a real estate shortage of close to 20 million homes, which represents an investment opportunity of over $300 billion today.
Over the years, Nigeria has been grappling with infrastructural deficiencies in all sectors, with the country's infrastructure investment gap put at $300bn. It is estimated that Nigeria needs an average of $33 billion annually to plug the gap.
This is where the UK comes in. In the past decade, its investment in Nigeria has shrunk, with statistics showing that its share of the Foreign Direct Investment (FDI) stock in Nigeria has decreased from close to seven per cent to less than two per cent between 2005 and 2014.