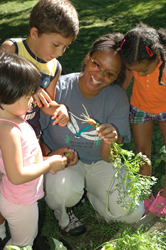 The incredible level of interest we've seen in the conference this year reflects the explosion of interest in creating opportunities for nature-based education for young children,
WEST ST. PAUL, MN and WASHINGTON, D.C. (PRWEB) August 11, 2016
Representatives from nature and forest preschools across the country will convene next week at the Thomas Irvine Dodge Nature Center and Preschool for the Natural Start Alliance's 2016 Nature-Based Preschool National Conference.
The annual conference, scheduled for Aug. 15-17, is coordinated by the Natural Start Alliance, a coalition of educators, parents and organizations dedicated to connecting preschool-age children to nature and the environment. The Alliance is a project of the North American Association for Environmental Education (NAAEE).
The Dodge Nature Center, founded nearly 50 years ago as one of Minnesota's first nature centers, is frequently recognized as a national leader in environmental education.
The conference represents a new opportunity for professional connections among nature-based preschools, whose numbers are growing rapidly in the United States. In these schools, children spend most or, in some cases, all of their time outdoors in natural settings.
"The incredible level of interest we've seen in the conference this year reflects the explosion of interest in creating opportunities for nature-based education for young children," says Christy Merrick, Alliance director. "We have seen dramatic growth in these kinds of programs over the past several years, and we are so happy to provide a platform for them to connect and grow the field."
Minnesota is a uniquely appropriate setting for this year's conference. Merrick adds, "We are especially pleased to have the conference in Minnesota, which is among the leading states in the number of nature-based preschools, and particularly at the Dodge Center, which was home to one of the nation's first nature preschools."
The Dodge Nature Preschool is one of 176 nature-based preschools that are members of the Natural Start Alliance.
Conference sessions are tailored for teachers and administrators of existing programs as well as individuals and organizations looking to establish a nature-centered program for preschool-age children and their communities. Presenters will focus on various topics, including how to create hands-on and interactive activities in nature for young children, promoting the value of outdoor play for families and communities and research highlighting the developmental outcomes of nature enrichment for preschool-age children. Others highlight innovative ways to integrate STEM (Science Technology Engineering Mathematics) principles into outdoor activities including gardening, bird watching and sandbox play as well as encouraging young children to become curious and ask questions in learning about science and nature.
Dr. Ruth Wilson, a pioneering advocate of early childhood environmental education, will deliver the conference keynote address. She will focus on the imminent challenges of environmental education for preschool children as they relate to social justice, inclusion, equity and some of the most urgent global environmental issues. Conference participants also will learn about the new Council of Nature and Forest Preschools, coordinated by the Alliance, which emphasizes networking for professional development and resources, sharing the latest research on nature-based education and advocacy for gaining support for nature-based preschool education.
Conference attendees also will have a chance to visit three Minnesota nature-based preschools: Tamarack Nature Center in Bald Eagle-Otter Lakes Regional Park, Children's Country Day School and All Seasons Preschool. Several conference sessions also will be held at Garlough Elementary School.
Conference sponsors include the Dodge Nature Center, George B. Storer Foundation, San Antonio Zoo and Zoo School and Acorn Naturalists. For more information, see http://naturalstart.org/nature-preschool/nature-based-preschool-national-conference.
About the Natural Start Alliance and NAAEE
The Natural Start Alliance is part of The North American Association for Environmental Education, a pioneering membership organization dedicated to accelerating environmental literacy and civic engagement through the power of education. NAAEE supports a network of more than 20,000 educators, researchers, and organizational members working in environmental education in more than 30 countries through direct membership and 53 regional affiliate organizations. Through community networks, publications, signature programs, and eeNEWS and eeJOBS, NAAEE provides programming and resources for professionals working in all areas of the field. NAAEE's annual conference, now entering its 45th year, convenes leaders from private and public sectors to advance the field of environmental education. For more information, visit http://www.naaee.org and naaee.org/eePRO.