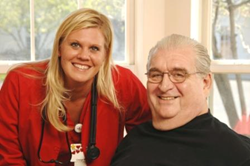 This hiring event is a great way for us to reach out into the community and recruit caring individual who embrace our mission.
Wlimington, OH (PRWEB) August 10, 2016
Cape May, a not-for-profit continuing care retirement community, is hosting a hiring event on Wednesday, August 17 from 1 to 6 p.m. at 175 Cape May Drive, Wilmington, OH 45177. During the event, Cape May will be looking for STNAs, LPNs and RNs to work with older adults in a warm, fun and caring environment. Cape May is offering a $500 sign-on bonus for STNAs and a $1,000 sign-on bonus for LPNs and RNs.
"This hiring event is a great way for us to reach out into the community and recruit caring individuals who embrace our mission," said Cassey Milburn, human resources director for Cape May. The Cape May mission to provide older adults with caring and quality services toward the enhancement of physical, mental and spiritual well-being consistent with the Christian gospel is the heart of the organization. "We are looking for compassionate people who have a heart to serve. If that's you, we welcome you to join a strong team of professionals and make a difference in someone's life," continued Milburn.
Cape May provides a friendly and team‐oriented workplace, dedicated to career, family and faith. Employees have the opportunity to touch lives within an innovative faith-based work culture, while working with the latest technology. Cape May offers competitive wages, affordable health insurance, an employer-matched retirement savings plan, free meals, education assistance, advancement opportunities, and free training designed to enhance work skills.
Interested candidates may apply in advance to RSVP at http://www.capemayohio.org/careers/.
###
About Cape May
Cape May is one of 12 retirement communities owned and operated by OPRS Communities, a wholly-owned subsidiary of Ohio Presbyterian Retirement Services (OPRS), headquartered in Columbus. Since 1922, OPRS has defined the highest standards of quality of life for older adults. Each year, OPRS serves more than 73,000 people annually through its wholly owned subsidiaries OPRS Communities and Senior Independence.