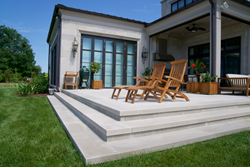 This product is perfect for urban green spaces or anywhere space is a challenge.
Bloomington, Ind. (PRWEB) August 15, 2016
Pattern Pavers are the newest addition to Indiana Limestone Company's Urban Hardscape line. Natural-stone Pattern Pavers deliver a premium aesthetic, while offering the high quality and durability synonymous with Indiana Limestone.
Pallets of mixed-size pavers are perfect for urban settings such as courtyards, city gardens and confined green spaces. This breakthrough offering brings the company's classic limestone to an extraordinary range of smaller landscaping and hardscaping projects.
From pallets of mixed paver sizes, three surface patterns can be derived – Highpoint, Modesto and Chesapeake. Mixed paver-size pallets are ideally scaled to work in smaller formats and the city landscape. They expand the possibilities for landscape architects, builders, contractors, remodelers and consumers to utilize premium materials in smaller non-urban projects as well.
"Having three sizes of pavers on a pallet and patterns specifically designed to utilize those sizes is unique in the natural stone world," said Indiana Limestone Product Manager Ben Wojcikiewicz. "Normally purchasing three sizes means purchasing three pallets, which is too much stone for jobs in the 140-280 square-foot range. This product is perfect for urban green spaces or anywhere space is a challenge, but bespoke materials selection is a priority."
Pattern Pavers are available in Indiana Limestone's Full Color Blend, with the rich buff and gray tones made famous throughout North America for more than a century. The pavers can be selected in an array of sizes, shapes and forms. All Indiana Limestone products are notable for ease of handling by masons and landscapers' installation crews. The new product is also well adapted to patios, walkways and pool decks.
The limited environmental impact of quarrying, cutting and dressing operations for Indiana limestone makes it an exceptional green product. For certain projects in the central Midwest, it may earn LEED credits.
For more on the Indiana Limestone Company and its products, visit IndianaLimestoneCompany.com.
About Indiana Limestone Company
Indiana Limestone Company is unmatched as the premier supplier of Indiana limestone in a range of beautiful and lasting building products. Founded in 1926 (with predecessor firms that had been quarrying limestone since the mid-1800s), ILCO today remains the provider of choice for this internationally renowned natural stone. Throughout an illustrious history in which its stone has made such iconic structures as the Empire State Building, National Cathedral, and the Pentagon, ILCO has reliably provided the highest quality products and services carefully tailored to the needs of the market with an environmental, natural focus.