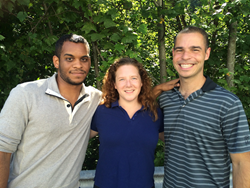 Jamie's extensive time in the touring Broadway market, Dan's successful history in sporting events and James' accounting and admin experience are a perfect fit here
WASHINGTON, DC (PRWEB) August 12, 2016
Leading event design & production firm, Showcall, Inc. announced today that seasoned event professionals, Dan Laufer and Jaime Prine join the team at Showcall as Account Managers and James Lee joins Showcall's Accounting and Admin Team.
A native Washingtonian, Laufer cut his teeth in the sports industry by serving in various capacities with the Citi Open (Formerly the Legg Mason Tennis Classic). From 2007-2015, Laufer served as Director of Operations for the tournament working with and interfacing with the Sports governing bodies (ATP, WTA & USTA), Federal Agencies such as the National Park Service, DC Government and ESPN/Tennis Channel for broadcasting and many local vendors.
As part of Lagardere Sports & Entertainment, Laufer managed events around the country including a series of indoor arena tennis exhibitions that featured Andre Agassi, Serena Williams, Pete Sampras, Caroline Wozniacki among others. In addition, Laufer has worked in AVP Pro Beach Volleyball, Ice Wars Figure Skating, Major League Gaming, 84 Lumber PGA Golf and the Military Bowl.
Originally from Michigan, where she obtained a Bachelor's of Arts in Theatre, Prine moved to the DC area in 2000. She spent the past 16 years working in the theatrical world producing Broadway musicals, which have toured worldwide. As Associate Producer at Troika Entertainment, Jaime assisted in producing over 65 touring productions in various countries around the world. Some of the many highlights include the first American production to tour China (Sound of Music, 2004), the first English speaking musical produced in Moscow (42nd Street, 2002), the 2009 National tour of Fiddler on the Roof starring Topol, the 2006-2009 National tours of Jesus Christ Superstar staring Ted Neeley, and the North and South American National Tours of Cats from 2000-2012.
Lee, a native to Northern Virginia, earned an associates degree in applied sciences at Northern Virginia Community College and then went on to hone his accounting and administrative skills at the University of North Carolina, Wilmington Campus and then at Dave & Buster's.
"Jaime, Dan and Lee bring to Showcall a diverse and unique set of experiences to our team" said Ajay Patil, co-founder and partner at Showcall. Patil also said, "Each of our key personnel have related, yet very individual skill sets that round out our bench. Jamie's extensive time in the touring Broadway market, Dan's successful history in sporting events and James' accounting and admin experience are a perfect fit here as we grow and broaden our reach into different market sectors. We are all excited to have them join the Showcall family."
Showcall Inc. was founded in 2001 by Ajay R. Patil and A. Blayne Candy. Since that time, Showcall has produced some of the world's highest profile events on an international basis, including multiple Papal Visits, Summits, and events for Fortune 100 companies, associations, and non profits and has been awarded multiple industry awards for its excellence.