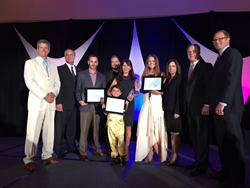 San Diego, CA (PRWEB) August 15, 2016
For the third year in a row, Confirm BioSciences was nominated as one of the Best Places To Work in San Diego and took home the #1 ranking for the small business category. This distinction was awarded by the San Diego Business Journal together with the Best Companies Group and their corporate sponsors. Companies included in the prestigious list were chosen through a two-part process that involves looking into the company's policies and practices and through a survey to evaluate the working experience of their employees.
"It is truly an honor to be working with this amazing team here, they make it happen every day here" said Confirm BioSciences president and CEO, Zeynep Ilgaz. "I feel blessed and grateful for this opportunity and on behalf of our team we would like to thank the San Diego Business Journal and all our community partners, customers and vendors who have been part of this amazing journey with us. We look for many more years together" Ilgaz continued.
The awards ceremony took place on August 11th at Paradise Point Resort & Spa and the San Diego Business Journal will release a special issue to feature all companies honored in the annual list.
Apart from this recognition, Confirm BioSciences has also been recognized by the San Diego Business Journal as one of the Fastest Growing Private Companies in San Diego, by the San Diego Chamber of Commerce as the past Outstanding Emerging Business winner and a 2-time finalist for the Ernst and Young Entrepreneur of the Year award.
About Confirm BioSciences
Confirm BioSciences provides a comprehensive line of rapid immuno-diagnostic test products for clinical, consumer and workplace applications. Products are marketed under Confirm BioSciences' proprietary labels, including HairConfirm™, DrugConfirm™, SalivaConfirm ™, PetConfirm™ - through national and international distributors.