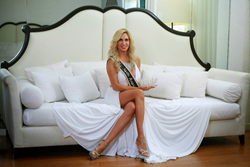 "The Mrs. Universe Pageant is a world-class competition that I am eager and blessed to be a part of this year," Gonzalez said. "I am grateful to the organization, as well as Michael Costello for designing my gown.
Los Angeles, CA (PRWEB UK) 16 August 2016
Carla Gonzalez, veteran pageant winner, will bring luxurious Hollywood style when she enters the Mrs. Universe 2016 competition, facing a host of beautiful pageant contestants from all over the world. Gonzalez will be wearing an exclusive dress designed by American couture fashion designer and former "Project Runway" contestant Michael Costello. Nola Roller, a Hollywood costume designer and wardrobe stylist who has worked for MTV, Bravo, and Fox, will also be designing Gonzalez's national costume.
Gonzalez, a triple-crown title holder, will enter the Mrs. Universe contest for the first time when the competition kicks off August 29 through September 6 in Guangzhou, China. This year's topic at the pageant will focus on domestic violence.
Gonzalez, a devout advocate who has received many certificates and recognition of many social causes, such as Teen Dating Violence, Human Trafficking and Bullying, intends to use her years of education and experience to provide solutions and dialogue to help overcome the negative impact domestic violence has on women and children. In her hometown of Oklahoma, she also attended the Purple Sash Gala supporting Domestic Violence Awareness and Prevention. Gonzalez earned her master's degree in Clinical Social Work from the University of Oklahoma and has provided counseling services to adults and children throughout her years working in public health. She is a Certified Anger Management Specialist, Certified Domestic Violence Specialist, Grief Recovery Specialist, and is currently working to become a QPR Suicide Prevention Instructor.
Gonzalez' most notable accolades in pageantry include Ms. North America Universe 2016, Ms. United Nation International 2013, Ms. America International 2012, Ms. US of America 2011, Ms. Oklahoma United States 2009-10, and Ms. Oklahoma Globe 2008.
"The Mrs. Universe Pageant is a world-class competition that I am eager and blessed to be a part of this year," Gonzalez said. "I am grateful to the organization, as well as Michael Costello for designing my gown. He is a fabulous designer with amazing experience, and Nola Roller is a true visionary. I am truly blessed to have my family and friends from all over the world following my journey and providing support."
One of Gonzalez' most distinguishing awards came from President Barack Obama in recognition and appreciation of her commitment to strengthening the U.S. through her volunteer service. She was also awarded the Individual Anti-Bullying award by the National School Safety Advocacy Council and the Power of One award by the Oklahoma Coalition Against Domestic Violence & Sexual Assault.
Gonzalez is a member of the state Human Trafficking Task Force, State and National Domestic Violence & Sexual Assault coalitions, American Professional Society on the Abuse of Children, Academy on Violence and Abuse, and International Bullying Prevention Association. Gonzalez spent several years volunteering for the largest domestic violence shelter in Oklahoma, the YWCA, and continues to support several other charities and organizations.
Gonzalez was invited by The Love International Film Festival to present Golden Globe winner and iconic actress Sally Kirkland with the Humanitarian Award. Gonzalez walked the carpet alongside Kirkland and international Chinese-American actress Bai Ling. Another honor for Gonzalez was when she presented actress Barbara Eden with the Icon Beauty Award at the Hollywood Beauty Awards.
Gonzalez had the opportunity to attend and support many charity and red carpet events in Hollywood, Beverly Hills and Los Angeles, including the Matt Leinart Foundation's 10th Annual Celebrity Bowl. She also attended the Celebrity Sweat ESPY's VIP After Party where she was pictured on the red carpet with Derek Fisher, a five-time NBA Champion, and with Professional American boxer and former WBC welterweight champion Victor Ortiz.
In addition to her career and charity work, Gonzalez balances many hobbies. Some of those activities include judging and competing in pageants, as well as participating in fashion shows. She has a passion for ballroom, jazz, and Latin dance and enjoys taking acting lessons from Kirkland.
Areal Restaurant in Santa Monica, California, continues to be a proud sponsor of Carla Gonzalez in her pageantry career as well in the Mrs. Universe Pageant Competition. Visit Areal Restaurant at http://www.arealrestaurant.com.
Gonzalez is currently being represented by Identity Brand Management identitybrandmanagement.com and YM & Associates PR for Publicity and Red Carpet & Charity Events at http://www.YM-PR.com.
For information on the Mrs. Universe Pageant visit http://www.mrsuniverseltd.com/.
For more information about Carla Gonzalez, visit her website at http://www.CarlaDGonzalez.com, Instagram at Carlag0321, and Twitter at @CarlaGonzalezOK.
For Media Inquiries, Interviews or Speaking Engagements, please contact YM & Associates PR | Marketing | Branding at YMoralesY(at)YM-PR(dot)com or call 949-244-9769.
Yvette Morales
YM & Associates
PR | Marketing | Branding
California | New York
949.244.9769
YMoralesY(at)YM-PR(dot)com
@YMTheBevHillsPR
http://www.YM-PR.com