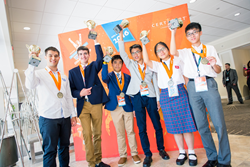 In today's global economy these young people understand that Microsoft Office Specialist certification gives them an edge and prepares them for success.
SALT LAKE CITY, Utah (PRWEB) August 15, 2016
Certiport (http://www.certiport.com), a Pearson VUE business, the leading test delivery solution provider for the global workforce and academic markets, today announces the 2016 Microsoft Office Specialist (MOS) World Champions in Microsoft Word, Excel and PowerPoint, culminating the most popular technology skills competition on Microsoft Office and the only one endorsed by Microsoft since its inception in 2002.
In its 15th year, the 2016 MOS World Championship (MOSWC) attracted more than 700,000 unique candidates from 120 countries who took an MOS certification exam to demonstrate their mastery of Microsoft Office products. Regional competitions were held worldwide and 150 student finalists from 48 countries competed in the final round of competition in Orlando, Florida, USA.
The 2016 Microsoft Office Specialist World Champions are:

Ming Lai Tin, age 16, Hong Kong, Microsoft Word® 2013
Georgi Boshev, age 18, Bulgaria, Microsoft Word® 2010
Ryan Catalfu, age 17, United States, Microsoft PowerPoint® 2013
Chao Ka Hei, age 17, Macau, Microsoft PowerPoint® 2010
Lee Pak Hei, age 18, Hong Kong, Microsoft Excel® 2013
Lei Kuan Hou, age 16, Macau, Microsoft Excel® 2010
Certiport and Microsoft recognized the top student competitors at the MOSWC Student Awards Ceremony at the Hilton Orlando Lake Buena Vista Hotel in Orlando, Florida and presented each first place 2010 winner with a $5,000 cash prize and each 2013 winner with a $7,500 cash prize. In the concluding round, competitors participated in unique project-based tests to demonstrate their ability to create documents, spreadsheets and presentations for the information presented in Word, Excel and PowerPoint.
"As we celebrate the 15th year for this competition it is more popular than ever," said Bob Whelan, president of Pearson Assessments. "In today's global economy these young people understand that Microsoft Office Specialist certification gives them an edge and prepares them for success. The competition is a lot of fun, but it also gives participants a valuable, industry-recognized certification on their resume."
MOS certification is the only official Microsoft-recognized certification for Microsoft Office globally and serves as a powerful instrument for assessing student skills and preparing students for real-world application.
"Microsoft is continually impressed with the caliber of competitors in the MOS World Championship and we are proud to support this inspiring event," said Anneleen Vaandrager, senior director of Worldwide Public Sector – Education at Microsoft. "These students are masters at Word, Excel and PowerPoint, and they understand that achieving proficiency in these applications will help them in their academic success and entry into the workforce."
Next year, Certiport will host the 2017 Microsoft Office Specialist World Championship in Anaheim, California. Download high-resolution photos of the winners here and video interviews here. The event hashtag is #MOSWC.
About Certiport
Certiport, a Pearson VUE business, is the leading provider of certification exam development, delivery and program management services delivered through an expansive network of over 14,000 Certiport Authorized Testing Centers worldwide. Certiport manages a sophisticated portfolio of leading certification programs including: the official Microsoft Office Specialist certification program, the Microsoft Technology Associate certification program, the Microsoft Certified Educator program, the Adobe® Certified Associate certification program, the Autodesk Certified User and Autodesk Certified Professional certification programs, the Intuit QuickBooks Certified User certification program, and the IC3 Digital Literacy certification. Certiport reliably delivers over three million tests each year throughout the secondary, post-secondary, workforce, and corporate technology markets in 148 countries and 26 languages worldwide. For more information, please visit http://www.certiport.com or follow Certiport on Twitter at http://www.twitter.com/certiport.
"Certiport" and "IC3" are registered trademarks of NCS Pearson, Inc. in the United States and other countries. The names of actual companies and products mentioned herein may be the trademarks of their respective owners.