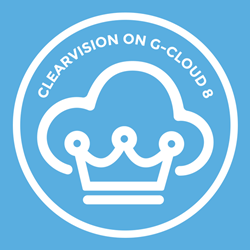 Clearvision has established itself as a valued Atlassian Expert on G-Cloud and has the experience and resource required to deliver large scale long term projects.
London, England (PRWEB UK) 16 August 2016
With the UK's G-Cloud 8 framework now live, Clearvision has been selected as a supplier for government and public sector organisations for the fourth consecutive year.
As a long term Atlassian Expert, Clearvision's continued presence on the G-Cloud platform has established the company as a committed provider to public sector and government clients. Headquartered Southampton, UK, Clearvision provides technical consultancy, implementation and support to clients such as the Home Office, Ministry of Justice, and DVLA.
Launched in August 2016, this is the latest iteration of the government's G-Cloud framework. Growth in the Digital Marketplace is particularly exciting at this time, with recent figures indicating that the total lifetime spend through G-Cloud has reached £1.26bn as of August 2016.
As an Atlassian Enterprise and Platinum Expert, Clearvision will be providing licensing, consultancy services, hosting, support, training and long term contractors for the Atlassian stack and open source tooling through G-Cloud. In G-Cloud 8, Clearvision offers a total of 54 services across its areas of expertise in the Software as a Service and Specialist Cloud Service categories.
Clearvision's offerings include:

Atlassian licensing and management (including JIRA Software, Confluence and HipChat)
Atlassian professional services across consultancy, training, support and cloud hosting
Spectrum – Clearvision's scalable solution to integrate and centralise access, control and reporting across your apps
Open source tooling, consultancy, training and support
Application Lifecycle Management, DevOps and Agile specialist services
Support and hosting for Atlassian, Git and more
Clearvision is also a leading partner with vendors such QASymphony, Zendesk, Sonatype, Tempo, Zephyr, HJP (Global Tester), and Service Clarity. By providing a comprehensive range of best of breed tools, Clearvision is now recognised in government for its expertise across all ALM tooling and services and has worked with government organisations in the UK and around the world
"As Clearvision continues to grow rapidly, with our newest office opening here in London, we look forward to continuing to strengthen our relationship with the public sector," said Jon Olsen, Clearvision UK Sales Account Manager and UK Government Lead. Jon works closely with Clearvision's G-Cloud clients. "Clearvision has established itself as a valued Atlassian Expert on G-Cloud and has the experience and resource required to deliver large scale long term projects. We find this is increasingly important for our customers as their adoption of Atlassian tools accelerates along with their strategic importance."
To celebrate the launch of G-Cloud 8, Clearvision is offering a limited number of complimentary tools workshops for public sector customers who are looking to adopt new tooling or get increased value out of existing systems. This will take the form of a half day workshop with one of Clearvision's Senior Solution Architects, who are experienced in working with government organisations, covering best practice principles, adopting the Atlassian development and collaboration portfolio, and agile methodology.
Public sector and government organisations wishing to find out more about procurement via G-Cloud and the services offered by Clearvision should contact enquiries(at)clearvision-cm(dot)com.
To review Clearvision's services for government, visit https://www.clearvision-cm.com/services/government/