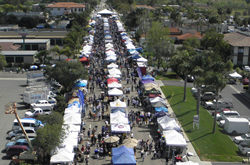 Chamber festivals are a great way to make immediate sales while connecting with the community to begin building relationships for the longer term. Pam Rumer President/CEO San Marcos Chamber of Commerce
San Marcos, CA (PRWEB) August 18, 2016
The San Marcos Chamber of Commerce is hosting the Chamber's 2016 Grand Fall Festival & Street Fair, Sunday, October 9 from 9 AM to 5 PM along Via Vera Cruz between San Marcos Boulevard and Grand Avenue. For 30 years, the San Marcos Chamber festivals and street fairs have earned the reputation for old fashioned community fun and family-oriented outdoor entertainment with something for everyone. The event features excellent food, cold beverages, live bands, a community stage for local performers, music, lots of children's activities, rides, games of chance, quality art, crafts, sundries, photography, fashion, home decor, non-profit organizations.
Vendor Signups Now Open
Book your space to enjoy a day of hoopla and profits and be one of up to 250 booths selling arts, crafts, fashion, food and drink. Sway to the live music, applaud the choreography of the community stage performers, extol the virtues of the tasty street foods like skewered chicken kabobs, tacos, pizza, bratwurst, frozen yogurt, lemonade, chocolate, salt water taffy, mini bundt cakes and fried delicacies.
For one day, take a step back in time. Bask in the old fashioned pleasures of times past. It's said babies don't cry, dogs don't bark, and wise elders feel nineteen again. The Muse visits the musicians, artist inspire, community stage performers entertain and children enjoy the sport of climbing walls, slides, swings, roller coasters and bounce houses.
Even while working businesses can engage in the biggest spectator sport in the world by crowd watching up to 20,000 locals and visitors from San Marcos, nearby communities along North County San Diego's Highway 78 and beyond turn out to take bask in San Diego's temperate climate and blue skies.
Whether in the business of selling crafts, fashion, jewelry, artwork, home décor, pet toys, face painting, iced drinks, cars, trucks, motorcycles, bicycles, or marketing programs such as insurance, classes, training, tutoring, after school programs, events, or selling home buying, safety, security and sports activities such as golf, soccer and baseball, physical fitness, health, medical, yoga, massage therapy, acupuncture, barbering, handmade products, teas, soaps, solar, roofs, baby fashion, children's toys, organic foods, windows, t-shirts, sweat and golf shirts, and posters, the time to register is now.
BECOME AN EVENT SPONSOR
Further expand your business outreach to heighten awareness and visibility of your business' products services through event sponsorship. Custom sponsorships leverage the Chamber's website, e-Newsletters; Social Media profiles and cross-posts by Chamber media partners to maximize awareness of your business through the use of paid, earned, owned and shared print and digital solutions.
Sponsorships help support event promotion and marketing efforts with the upside of expanded audience and profits. For additional information, please contact the Chamber office. For event registration please contact: