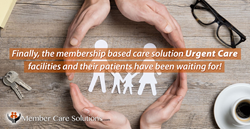 'We needed software capable of managing an array of components that come attached to membership level programs.' -- Brent Kell CEO, Valley Immediate Care
Ashland OR (PRWEB) September 20, 2016
Valley Immediate Care — a five facility urgent care provider based in Southern Oregon — launched a new monthly urgent care membership program, branded MyUrgentCare365.com. The program was designed to meet urgent care needs for the underinsured and those individuals and families that may be facing high deductibles under specific Obama Care plans.
"The membership plan needed to run independently from our normal day-to-day operational software solutions, which are not specifically designed to support this type of launch and marketing. It was apparent that a membership program needed its own website, account sign up, payment process and tracking," stated Jay Tapp, Director of Business Strategy. The only failsafe approach was to look at developing a new software solution that directly supported the needs of a specialized program, which is expected to draw in thousands of members, according to Tapp. "The challenge was to have something that was elegant and intuitive for the consumer side and that provided real time data point and program modifications on the administrative side," added Brent Kell, CEO. The administrative portal also needed to provide critical information to Valley Immediate Care staff and allow for secure login and data processing for companies wanting to offer this urgent care option to employees.
"Clearly, a software solution did not exist that tied all of our needs together to insure that we would have a successful, well-integrated program that could be deployed quickly and with limited staff involvement. We needed something capable of managing the array of components that come attached to urgent care membership level programs including an independent shopping cart, member account sign up, auto membership renewal, terms and conditions acceptance and a member account access portal," stated Kell.
After a thorough review process, Valley Immediate Care teamed up with St. Louis based Member Care Solutions, LLC to develop an automated solution based on their existing membership enrollment and management software platform. This refined and specialized version allows for ease of implementation, tracking and member renewal, all while being HIPAA compliant. "The software solution that Member Care Solutions provides is exactly what we needed to launch in a quick and effective manner," added Kell.
Darren Eilers, CEO of Member Care Solutions, stated that the software was designed to meet every need of urgent care facilities looking to deploy this type of membership program in an efficient and intuitive manner, and with virtually no technical skills required. Eilers added, "This is the membership software solution that the urgent care industry has been craving and our company now has a reasonably priced, fully scalable solution ready for immediate deployment no matter if you're a single facility or a chain. Our SaaS [Software as a Service] solution is priced so that the urgent care industry can take full advantage of these opportunities now, and be enrolling new members in a matter of days!"
Member Care Solutions and Valley Immediate Care are working together to help urgent care facilities throughout the country introduce this new care alternative within their communities. Urgent care facilities who enroll in this program will receive all of the tools necessary to implement the program within their facilities, even if they do not have a company or consumer facing website. Urgent care facilities are encouraged to contact Member Care Solutions via their website at https://membercaresolutions.com to schedule a demo and/or to enroll immediately