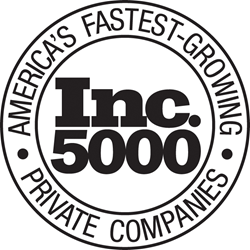 We are thrilled that the investments in our human resources and infrastructure continue to help the company grow
Atlanta GA (PRWEB) August 17, 2016
ATLANTA, GA—National Glazing Solutions (NGS), a national leader in commercial security film, solar window film & graphics solutions, has been named to the Inc. 5000 list of the fastest-growing private companies in America. Fellow honorees have included Microsoft, Oracle, Vizio, Intuit, Timberland, Zappos and Chobani.
As an Inc. 5000 honoree, NGS will attend the thirty-fifth annual Inc. 5000 Conference and Gala. The event will be held at the JW Marriott Hill Country in San Antonio, October 18–20, 2016. Beyond the black tie, the conference will offer opportunities to learn from the masters in the art of entrepreneurship. Keynote speakers will include Tony Robbins; Weili Dai, co-founder of Marvell Technology Group; Kim Jordan, co-founder of New Belgium Brewing; and Elizabeth Cutler and Julie Rice, co-founders of SoulCycle.
The conference brings top entrepreneurs together to meet, exchange ideas and get inspired. Educational and workshop sessions will cover topics including better customer service and brand awareness.
According to James Beale, managing partner and vice president of sales for NGS, "As an entrepreneur, you never want to stop learning. Being included in the Inc. 5000 list and attending the conference and gala will open a lot of doors for us. The experience will help us continue to deliver the latest window film solutions and outstanding service to our customers."
About Inc. 5000
The Inc. 5000 list is created by Inc. magazine, the only major business magazine dedicated exclusively to owners and managers of growing private companies. It provides companies with hands-on resources and market-tested strategies for managing people, finances, sales, marketing and technology.
About National Glazing Solutions
National Glazing Solutions LLC is the nationwide leader in solar, security, specialty and printed window film solutions and installation services. Industry-leading offerings include energy modeling, custom printing and proprietary security applications such as TRI-SHIELD. Projects include corporate headquarters, major retail chains, hospitals, hotels and airports. NGS was recognized as the No. 1 commercial window film company in the U.S. by Window Film Magazine in 2013.
Media Contact
James Beale
Managing Partner and Vice President of Sales
National Glazing Solutions
Tel: 404-993-2704
james(at)nationalglazingsolutions(dot)com