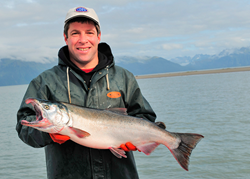 Our fishermen apply the same handling practices to Copper River coho salmon as they do with Copper River king and sockeye salmon.
Cordova, Alaska (PRWEB) August 19, 2016
Fishermen of the Copper River flats celebrated the official start of Copper River coho salmon season on August 15. Setting their nets in tumultuous ocean swell, they were rewarded with bright and beautiful Copper River coho salmon.
According to research biologist Steve Moffitt with the Alaska Department of Fish and Game (ADF&G), harvest from the first Copper River coho salmon fishing period was 19,000 coho salmon. This level of harvest is on track to meet or exceed the preseason harvest forecast of 201,000 coho salmon. If the run comes in as forecast, harvest could be over 45% higher than last year when 137,000 Copper River coho were caught- great news for fishermen and salmon lovers alike!
Copper River coho salmon are the last Copper River salmon of the season. Weighing an average of 8 pounds, they are the second largest species found on the Copper River. Wild coho salmon are voracious predators, growing from a few inches in length to their adult size in only one year of feeding in the ocean. This makes them a robust salmon with firm flesh. The texture is perfect for grilling, and the red-orange color creates a visual feast.
Cassandra Squibb, Chief Marketing Officer at Copper River Seafoods, says: "Copper River coho is essentially the season finale to Alaska's fresh summer salmon season. Our fishermen apply the same quality handling practices to Copper River coho salmon as they do with Copper River king and sockeye salmon. Proper handling from harvest to plate - combined with the intrinsic qualities of salmon from the Copper River region - produces some of the best coho salmon Alaska has to offer. Many actually prefer Copper River coho to Copper River king and sockeye because it is a milder tasting fish and coho is some of the best salmon for grilling. So far we're seeing an average start to the run and the fish are absolutely beautiful."
If you missed the first fresh Copper River coho, don't worry; the next fishing period is scheduled for Monday, August 22. Because sustainability of fisheries is written into Alaska's constitution, ADF&G manages this wild salmon run for long-term yield. This makes Copper River salmon a wise choice, both for your health and for the planet.
To find Copper River coho salmon near you, use our locator tool. For more information about Copper River salmon, please visit our website.
The Copper River/Prince William Sound Marketing Association, a fisherman funded regional seafood development association, works on behalf of the 500 plus commercial salmon fisherman of Coastal South Central Alaska. The association works to build brand awareness for wild Copper River king, sockeye and coho as well as Prince William Sound sockeye, keta, and pink salmon.
For additional information contact:
Christa Hoover, Executive Director
info(at)copperrivermarketing(dot)org
http://www.copperriversalmon.org
Copper River/PWS Marketing Association
Box 199, Cordova, Alaska 99574
t: 907.424.3459:: f: 907.424-3430