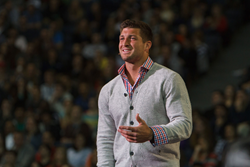 Lynchburg, Va. (PRWEB) August 18, 2016
Liberty University has announced another slate of exciting and engaging Convocation speakers, who will challenge, entertain, and inspire students during the Fall 2016 semester. Among the guests are popular musicians, including for King & Country (Sept. 30), Third Day's Mac Powell (Sept. 2), "Backstreet Boy" Brian Litrell (Oct. 19), and KORN's Brian "Head" Welch (Sept. 19) as well as sports icons like Heisman Trophy winner Tim Tebow (Oct. 17), Brazilian soccer star Kaká (Sept. 21), and Super Bowl champion Joe Theismann (Oct. 21) and comedians Tim Hawkins (Sept. 23) and Larry the Cable Guy (Nov. 11). Noted Christian psychologist James Dobson (Sept. 26) and media mogul Steve Forbes (Dec. 7) are also scheduled to speak.
Convocation is North America's largest weekly gathering of Christian students, and each year it plays host to more than 80 guest speakers of national significance from every sphere of society. It is held within the Vines Center at Liberty University during each semester at 10:30 a.m. on Monday, Wednesday, and Friday unless otherwise noted.
Many Convocations can be streamed live at Liberty.edu/Watch and past events can be viewed at Liberty.edu/Streaming or at YouTube.com/LibertyUniversity.
Fall 2016 Convocation schedule:
This schedule is tentative and subject to change. Visit Liberty.edu/Convo for the most up-to-date schedule.
8/31 – Jonathan Falwell | Senior Pastor of Thomas Road Baptist Church
9/02 – Mac & Aimee Powell | GRAMMY Award-Winning Singer & Orphan Care Advocates
9/05 – Alternative Convocation*
9/07 – Clayton King | Evangelist, Author, Pastor, and President of Clayton King Ministries (Spiritual Emphasis Week)
9/09 – Sujo John | 9/11 Survivor & Founder of youcanfree.us
9/12 – Chris Broussard | Sports Columnist & ESPN Sports Analyst
9/14 – Vernon Brewer | President & CEO of World Help (Global Focus Week)
Children of the World | International Children's Choir
9/16 – Darren Whitehead | Pastor of Church of the City
9/19 – Brian "Head" Welch | Co-Founder of KORN & Bestselling Author
9/21 - Kaká | Midfielder for Orlando City Soccer Club in MLS and the Brazil National Team
9/23 – Tim Hawkins & Bob Smiley | Comedians (CFAW)
9/26 – James Dobson | Psychologist & Founder of Family Talk
9/28 – David Jeremiah | Founder of Turning Point Radio and Television Ministries & Senior Pastor of Shadow Mountain Community Church
9/30 – For King & Country | GRAMMY Award-Winning Contemporary Christian & Gospel Band | Producers of Upcoming Motion Picture, Priceless
10/03 – Alternative Convocation*
10/05 – Special Olympics Celebration, Ceremony, and Competition
10/10 – Ralph Reed | Founder and Chairman of the Faith & Freedom Coalition
10/12 – Steven Furtick & Elevation Band | Lead Pastor of Elevation Church & Award-Winning Worship Band
10/14 — Ed Hindson | Dean, Rawlings School of Divinity
Benny Prasad | Instrumental Guitarist & Missionary
10/17 – Tim Tebow | Two-time College Football National Champion & Heisman Trophy Winner
10/19 – Brian Littrell | Founding Member of World-Renowned Band, "Backstreet Boys"
10/21 – Joe Theismann | Former Washington Redskins Quarterback & Super Bowl XVII Champion (Homecoming Weekend)
10/24 – Bethel | Multi-Award Winning Worship Group
10/26 – Jared Hall | Illusionist & Comedian
10/28 – Darrell Scott | Senior Pastor & Co-Founder of New Spirit Revival Center
10/31 – Alternative Convocation*
11/02 – Levi Lusko | Pastor of Fresh Life Church | Author of "Through the Eyes of a Lion"
11/04 – Tim Lee | Evangelist, Vietnam Veteran, and Liberty Board of Trustees Member
11/07 – Jerry Thorpe | Pastor Emeritus of Temple Baptist Church, and Liberty Board of Trustees Member
Michel Faulkner | Nominee for Mayor of New York
11/08 – Election Day
11/09 – Karen Kingsbury | New York Times Bestselling Author
11/11 – Larry the Cable Guy | Comedian, Recording Artist | Partnership with the Git-R-Done Foundation to honor and support veterans (Veterans Day Celebration)
11/14 – Sammy Rhodes | Author and Social Media Personality
11/16 – Johnnie Moore | Author, Speaker, and CEO of The Kairos Company
11/18 – Ayesha Curry | Celebrity Cook, Author, and Wife of Two-time NBA MVP Stephen Curry
11/28 – Louie Giglio and Passion Worship Band | Lead Pastor of Passion City Church and Award-Winning Worship Band
11/30 – Michael Reagan | Bestselling Author & Chairman of The Reagan Group
12/02 – Rosaria Butterfield | Author, Speaker, and Former Professor at Syracuse University
12/05 – Alternative Convocation*
12/07 – Steve Forbes | Chairman & Editor-In-Chief of Forbes Media
12/09 – Ben Gutierrez | Vice Provost for Academic Administration, Vice President of Academic Affairs, and Professor of Divinity
12/12 – Christmas Convo
*Schools within the university host their own Convocations.
About Liberty University:
Liberty University, founded in 1971, is the largest private, nonprofit university in the nation, the largest university in Virginia, and the largest Christian university in the world. Located near the Blue Ridge Mountains on more than 7,000 acres in Lynchburg, Va., Liberty offers more than 500 unique programs of study from the certificate to the doctoral level. More than 250 programs are offered online. Liberty's mission is to train Champions for Christ with the values, knowledge, and skills essential for impacting tomorrow's world.