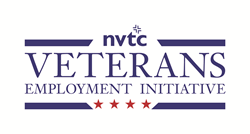 HERNDON, Va. (PRWEB) August 22, 2016
The Northern Virginia Technology Council (NVTC), the largest technology council in the nation, is celebrating the third year anniversary of the NVTC Veterans Employment Initiative (VEI) and its efforts to connect Veterans to employment opportunities in Virginia's technology community.
The VEI is driven by the Northern Virginia business and technology community, in conjunction with the region's academic institutions and policymakers. Since its launch in Aug. 2013, the VEI has developed and expanded several programs to support NVTC member companies in their efforts to recruit, hire, train and retain qualified Veteran employees and to help match Veterans and military spouses with jobs, internships and mentorships.
"We're excited about the VEI's success to-date in matching Veterans to jobs in our region's technology community," stated VEI Program Manager Steve Jordon. "More than 4,000 Veterans and military spouses have been hired by NVTC member companies over the three years since the Initiative's inception."
The VEI online community and job board, http://www.novatechvets.org, hosted by career industry leader Monster.com and Military.com, provides tools designed to assist service members' transition into the civilian workforce. Veterans can use the military skills translator to match their service related experience to civilian skill sets, access a searchable database of jobs at NVTC member companies and tap into educational resources to help them develop skills to thrive in a private sector career. Currently, over 400 NVTC corporate recruiters use the job board and more than 7,000 job opportunities are posted on the site. In addition, NVTC member recruiters can access Monster's database of more than 950,000 Veteran resumes, use state of the art search tools to find the right potential employee, and post and manage job openings.
In addition to the online community, the VEI hosts bi-monthly Recruiting Day events to match companies with transitioning service members, Veterans, military spouses and members of the National Guard and Reserve. 535 Veteran job seekers have participated in these events over the last three years.
The VEI also runs the VETWORKING program to facilitate development of Veterans' professional skills, help them build their professional networks and empower them through the support of fellow job seekers or newly-employed colleagues. Offered in partnership with the MITRE Corporation, VETWORKING has served 120 job seekers. The VEI also has teamed with the region's colleges and universities to help connect student Veterans with summer internships with NVTC member companies. Additionally, the VEI collaborates with state and federal policymakers to support legislative and/or regulatory action that enhances a companies' ability to hire and train Veterans.
"We are thrilled by the growth of the Initiative in its first three years," said NVTC President and CEO Bobbie Kilberg. "We look forward to expanding our efforts to help connect Veterans with employment in our technology sector in the coming years."
The VEI is funded by the NVTC Foundation, a 501(c)(3) tax-exempt nonprofit. Major corporate donors to date include the Northrop Grumman Corporation, Harmonia Holdings, Pentagon Federal Credit Union and Visa.
For more information about the VEI, visit http://www.nvtc.org/veterans or visit the Veteran online community and resources at http://www.novatechvets.org.
# # #
The Northern Virginia Technology Council (NVTC) is the membership and trade association for the technology community in Northern Virginia. As the largest technology council in the nation, NVTC serves about 1,000 companies from all sectors of the technology industry, as well as service providers, universities, foreign embassies, nonprofit organizations and governmental agencies. Through its member companies, NVTC represents about 300,000 employees in the region. NVTC is recognized as the nation's leader in providing its technology community with networking and educational events; specialized services and benefits; public policy advocacy; branding of its region as a major global technology center; initiatives in targeted business sectors and in the international, entrepreneurship, workforce and education arenas; the NVTC Foundation, a 501(c)(3) nonprofit charity that supports the NVTC Veterans Employment Initiative and other priorities within Virginia's technology community. Visit NVTC at http://www.nvtc.org.