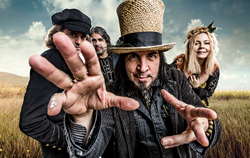 Cream Ridge, NJ (PRWEB) August 23, 2016
Two bandstands allowing for non-stop musical entertainment combined with wine sampling from 17 of New Jersey's finest wineries will be on the docket this Labor Day Weekend when the Garden State Wine Growers Association presents the Wine & Music Experience at the Horse Park of NJ on Saturday and Sunday, Sept 3-4 from noon to 5 pm (rain date Monday).
The musical lineup will be headlined Saturday on the Main Stage by the famed Roomful of Blues Band, the American blues and swing revival band with a recording career spanning over 40 years. Long Gone Daddies will perform on the Local Stage and Burning Bridget Cleary will open on the Main Stage. Sunday's musical entertainment will be headlined by The Slambovian Circus of Dreams on the Main Stage as well as Rogues on the Run performing on the Local Stage and Hot Jazz Jumpers opening on the Main Stage.
Advance discounted tickets are now on sale for $25 + fee on the http://www.newjerseywines.com website or by clicking here. This price will only stay in effect through August 28 and then $30 + fee the week of the event and on-site.
Seventeen leading NJ wineries will be sampling at the event. Participating wineries are: Bellview Winery, Cava Winery, Chestnut Run Farm, Coda Rossa Winery, DiMatteo Vineyards, Four Sisters Winery, Heritage Vineyards, Hopewell Valley Vineyards, Monroeville Winery, Old York Cellars, Plagido's Winery, Sharrott Winery, Tomasello Winery, Unionville Vineyard, Valenzano Winery, Villari Vineyards and Wagonhouse Winery.
Located in Allentown, NJ on Route 524 (exit 11 on I95) the Horse Park of NJ offers a beautiful setting for the Labor Day Wine & Music Experience.
Following is the official band line up for each day of the Wine & Music Experience.
Band Line up for Saturday, Sept. 3
12:00 - 1:00 pm - Long Gone Daddies - Local Stage
1:00-2:00 pm. - Burning Bridget Cleary - Main Stage
2:00-3:00 pm - Long Gone Daddies - Local Stage
3:00 - 4:30 p.m. - Roomful of Blues - Main Stage
Sunday, Sept. 4
12:00 - 1:00 pm - Rogues on the Run - Local Stage
1:00 - 2:00 pm - Hot Jazz Jumpers - Main Stage
2:00 - 3:00 pm - Rogues on the Run - Local stage
3:00 - 4:30 pm - The Slambovian Circus of Dreams - Main Stage