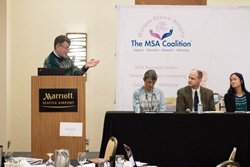 We am really excited about this year's multiple system atrophy conference! Along with our medical host Dr. David Houghton and his team at Ochsner Health, we have worked hard to ensure there is something for everyone.
New Orleans, LA (PRWEB) August 24, 2016
The Multiple System Atrophy Coalition invites MSA patients, along with their families and care partners, and all interested healthcare professionals to attend the Annual MSA Patient and Family Conference on October 14 and 15 at the Hilton Riverside Hotel in New Orleans, Louisiana.
Beginning on Friday, October 14 at noon, participants can look forward to a mix of educational topics and social activities as well as access to interactive and static displays in the exhibit area. Saturday is a full day of medical presentations ranging from overviews to specifics directed for those experiencing various stages of Multiple System Atrophy, as well as a session devoted to MSA research updates. As always, the conference will close with support group sessions for patients and care partners.
"We are really excited about this year's conference! Along with our medical host Dr. David Houghton and his team at Ochsner Health, we have worked hard to ensure there is something for everyone," explains Cyndi Roemer, MSA Coalition Board Member and chair of the conference organizing committee. "For the first time we are offering two tracks, one for those "Beginning the Journey" and another for those "Living with Advanced MSA". At various points throughout the weekend attendees will have access to a rotating panel of expert neurologists, allied health professionals, social workers and hospice care workers to answer questions about planning for and managing all aspects of MSA care."
"We are thrilled to host the Multiple System Atrophy Coalition Patient and Family Conference here in New Orleans this year," says Dr. David Houghton, M.D., M.P.H, Chief of the Division of Movement Disorders, Ochsner Health System. This conference really emphasizes the critical importance of interdisciplinary care in MSA - bringing expert physicians, nurses, psychologists, therapists, and social workers together to optimize care. I'm very excited that Ochsner's finest will be on hand for this two day event, along with other national experts, to educate us in the quest for a better future for all MSA patients."
Beyond all the educational information, the opportunity this conference provides for families to personally connect with others sharing the challenges of MSA is invaluable. The planned social events and afternoon breakout sessions for patients and care partners offer families the opportunity to meet other people and discuss problems and solutions. This year the MSA Coalition's traditional Friday evening reception and social hour will precede a dinner buffet highlighted by a keynote speaker and candle lighting ceremony.
"Year after year attendees tell us that meeting others who are also affected by MSA has been a very positive experience," explains Judy Biedenharn, Chair of the Board of the MSA Coalition. "Having a rare disease can seem daunting and isolating at times. We want families to know that they aren't alone in this journey, that we've all been there too and so can offer a lot of insights into how to manage to live well while living with the disease. We have all had a loved one with MSA and hope we can make the path a little easier for those currently on this journey."
Visit the MSA Coalition website to learn more about the multiple system atrophy conference in New Orleans… and to register. For further information: Email: conference(at)msacoalition(dot)org Toll free: 1-866-737-4999
See you in New Orleans!
For more information or to donate visit The Multiple System Atrophy Coalition's website.