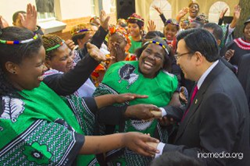 JOHANNESBURG, South Africa (PRWEB) August 26, 2016
Hundreds of Iglesia Ni Cristo (INC or Church of Christ) faithfuls in South Africa receive a historic visit from Executive Minister Eduardo V. Manalo, as he returns to witness the region's growing membership and dedicate the newly-purchased and renovated house of worship in Johannesburg, South Africa.
Purchased just last year, about 2.2 million ZAR worth of renovations went into beautifying the 937 square-meter property and its surrounding area. The building was formerly owned by Telecom Added Value Solutions, before being purchased by the Iglesia Ni Cristo for 1.1 million ZAR. Located at 141 Johannesburg Street, it is now home to faithful members of the Church Of Christ who, for years, have held services in their homes or rented facilities.
From the time the Executive Minister last visited the region in 2014, the INC has since flourished throughout the continent. The house of worship in Johannesburg is the second chapel dedicated by the INC in all of Africa, but the first in Johannesburg and in the Gauteng province. It is one of 28 local congregations and group worship services in Africa, eight of which are in South Africa. Another house of worship will be dedicated in Capetown later this week.
And its growth only continues – one day after the dedication of the house of worship in Johannesburg, over 20,000 residents throughout the Gauteng province made their way to the Ivory Park Sport Stadium for an INC Outreach Evangelical Mission – a free event sponsored by the INC wherein attendees received an introduction to the Church Of Christ and were also given numerous food parcels.
"On behalf of the community, on behalf of the people of South Africa, we are grateful, we appreciate, and words seem to be inadequate," says Lesedi Mapheto, one of the event organizers.
"What I loved about today is that I am thankful we got to know this Church. Your Church is great and this is the first time I see a Church this great. May God help it grow," says Megdelina Nkosi, one of the recipients from the outreach event.
The Church's rapid and unprecedented growth under the leadership of Executive Minister Eduardo V. Manalo is expected to continue in 2016 with the support of its membership worldwide.
"When many nonprofits have been forced to close their doors or cut back on services, we are thankful to God that after 102 years, the INC is still growing internationally," says Brother Alex Batulan, District Minister of Africa.
###
About the Iglesia Ni Cristo (Church Of Christ)
The Iglesia Ni Cristo (INC) or Church Of Christ is a global church comprising of more than 5,500 local congregations in over 100 countries and territories worldwide, with membership of at least 110 nationalities. Its Central Administration is in Quezon City, Philippines.