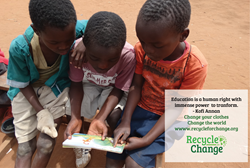 We believe that in order to secure a healthy and prosperous future for all people, we must protect and preserve our planet's natural re- sources and foster cooperation across cultures.
Richmond, CA (PRWEB) August 25, 2016
To further development in Africa is still important; Recycle for Change uses proceeds from the sale of used clothing to supports volunteer training and placement programs
Organizations like Recycle for Change are continuing to support the development work in Sub-Saharan Africa and in South America. Through grants to several US non-profit organizations sending trained and highly skilled volunteers to numerous development projects, Recycle for Change is standing by to its commitment to provide support to the important work being done together with of many other international NGO's and government agencies like USAID and the UN. We recognize the importance of continuing the efforts to create development in some of the poorest regions of the world even through the challenging economic environment currently in the USA.
One of the areas where continued support has proven to have lasting effects is teacher education. Since 2003 a number of countries in Sub-Saharan Africa have implemented a system of teacher training colleges to prepare primary school teachers for the rural areas. According to the agency overseeing these projects, in 2014 80% of the 11.000 graduates to date were still working in the rural schools, with over 2.700 new teachers being trained each year in 24 colleges in Angola, Malawi, Mozambique and India. To increase the number of teachers in rural areas and therefore to increase literacy rates is universally seen as one of the necessary steps towards empowering the population to create lasting development.
Many of these teacher training colleges received help in the form of highly motivated volunteers from the USA and elsewhere through the organizations supported by Recycle for Change. OWC Michigan and OWC Massachusetts (One World Center) have both trained and placed hundreds of volunteers in a number of development projects in Sub-Saharan Africa and South America.
Recycle for Change services the largest number of clothing donation boxes in the San Francisco Bay Area. More than one thousand locations are available for the public's use 24/7 and more are being added all the time. As a non-profit organization, Recycle for Change uses the proceeds from the sale of collected clothing to support recruitment and training programs for Development Instructors, dedicated international volunteers working with sustainable development projects in different parts of the world.